Nude statue of Clinton erected in New York (NSFW PHOTOS, VIDEO)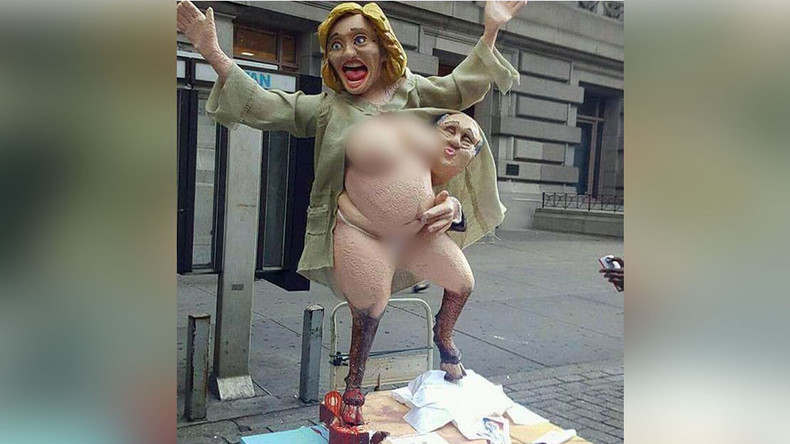 A nude statue of Hillary Clinton was erected outside a Manhattan subway station minutes away from Wall Street. The statue shows Clinton with hooves exposing herself with what has been described as a banker kissing her breast.
The unflattering statue appeared Tuesday morning outside the Bowling Green subway station in New York City. It attracted a crowd until it was toppled over by an outraged woman after three hours.
Video footage of a confrontation between Anthony Scioli, the artist who has taken credit for the statue, and a woman identified only as "Nancy" has surfaced.
At one point after toppling the statue, Nancy is seen sitting on the statue to prevent Scioli resurrecting it. The debate over the statue spread to onlookers, who argued over whether to take it down.
"This is obscene!" shouted Nancy, according to the NY Daily News. "To put something up like this in front of my workplace… I shouldn't have to see this," she said.
One onlooker said Nancy jostled anyone who attempted to put the statue back up, dismissing the argument that it was protected by freedom of speech.
The argument came to an end at around 8:30 a.m. when police officers arrived at the scene and instructed Scioli to take it away as he had not obtained a permit.
READ MORE: Can't unsee: Nude statues of Trump pop up in 5 US cities (NSFW IMAGES, VIDEOS)
In August, Clinton's rival Donald Trump was also given the statute treatment with five naked statues of the Republican presidential nominee erected across the US by a group identifying themselves as "INDECLINE."
Dubbed "The Emperor Has No Balls," the statue was put on displayed at Julien's Auctions in Los Angeles on Monday. The statue will be up for auction on October 22 and could sell for around $100,000, according to the auction house.