Terracotta Army probably designed by Greeks who arrived in China before Marco Polo – researchers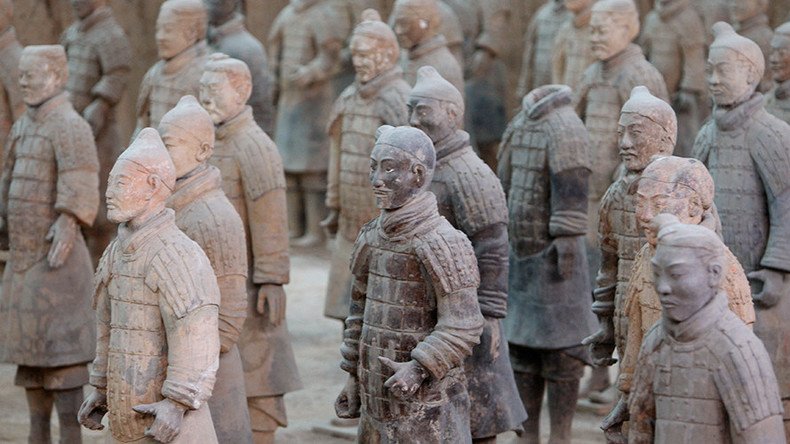 Marco Polo may have been beaten to China by 1,500 years according to new evidence. Not only did the travelers get to China earlier than previously believed, but they played a key role in the county's iconic Terracotta Army according to researchers.
"By systematically examining the First Emperor's main tomb and subsidiary burials we have discovered something more important even than the Terracotta Army," Professor Zhang Weixing, lead archaeologist at the tomb site, told BBC documentary makers.
The revised timeline of the West's presence in China emerged after new pieces of evidence including DNA was discovered in China's Xinjiang province dating back to the Third Century BC. Tests on the DNA show it to be of European origin.
Researchers also believe the sudden appearance of life-sized statues in China around this time point to a presence of Greek artists, who would have brought their sculpting techniques to the East following Alexander the Great's reign. Prior to this, Chinese statues were typically no taller than 20cm.
"I imagine that a Greek sculptor may have been at the site to train the locals," Professor Lukas Nickel, chair of Asian art history at Vienna University said when speaking about China's famous Terracotta Army, consisting of life-sized models of the soldiers of the First Emperor of China.
The evidence unearthed is to be shown on BBC in the documentary The Greatest Tomb on Earth: Secrets of Ancient China.
Marco Polo's well documented travels to the East occurred in the 13th century, making him a millennium and a half behind the artists who may have helped build the Terracotta Army.
You can share this story on social media: