Ancient discoveries: Thousands of gold & bronze items unearthed at Chinese cemetery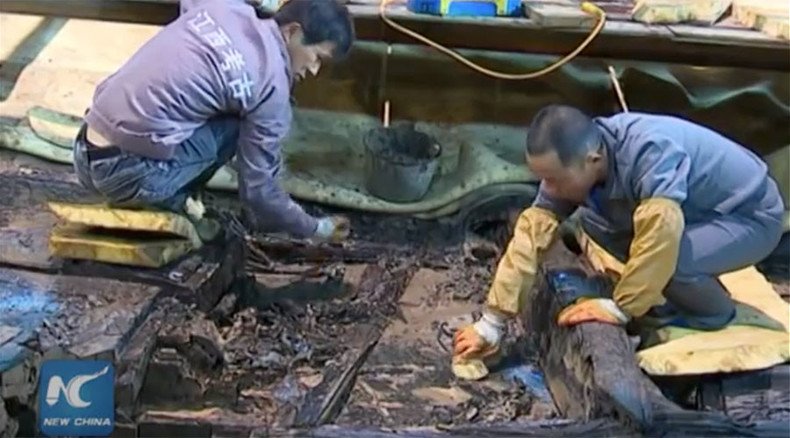 A treasure trove of valuable findings has been unearthed at an ancient Chinese cemetery. Multiple tombs, gold, bronze, iron and other precious items were found in the graveyard, the best-preserved Western Han Dynasty cemetery ever discovered.
A team of archeologists at Haihunhou cemetery in Nanchang, the capital of east China's Jiangxi Province, were given a rare treat when they unearthed more than 10 tons of Wuzhu bronze coins, along with more than 10,000 other gold, bronze and iron items.
Jade articles, wood tablets, and bamboo slips were also among the unearthed treasures, Xin Lixiang of the China National Museum, who led the team of archeologists, told Xinhua.
READ MORE: Ancient 6,300yo 'eco house' found near legendary Stonehenge monument in UK
The team also recovered musical instruments including chimes, se (a 25-stringed plucked instrument), pan flutes and sheng (a reed pipe wind instrument). They also found terracotta figurines showing how the instruments were played.
The archaeologists confirmed the findings this week, following a five-year excavation process.
The cemetery, which covers some 40,000 square meters, also houses eight tombs and a chariot burial site. According to Xu Changqing, director of Jiangxi Provincial Cultural Relics Research Institute, the chariot burial is a valuable discovery.
Five well-preserved horse-drawn vehicles have been found, each with four sacrificed horses, along with more than 3,000 accessories embellished with gold and silver.
"The discovery will be important for the study of hierarchical burial customs and articles used in burial," Xu said.
Archeologists believe the main tomb is that of Liu He – the grandson of Emperor Wu, the greatest ruler of Han Dynasty (206 BC- 25 AD). Liu was deposed as emperor after only 27 days, due to his supposed lack of talent and morals. Liu's wife is also believed to be housed in one of the tombs.
READ MORE: 'First burial mound of New Stone Age' people unearthed in Siberia
Tombs of other aristocrats have led the team to speculate that the dig may be the site of the capital of the Haihun Kingdom.
"The discovery can help us understand the social, economic and cultural status of the Western Han Dynasty, and even the development of music, transportation, metrology, and the evolution of Chinese characters and arts," Xu said, adding that the cemetery is the most complete and best preserved Han Dynasty tomb cluster ever discovered.
Xin said the next stage of the dig will be to look for items locked in the coffin of the central mausoleum.
"There may be a royal seal and jade clothes that will suggest the status and identity of the tomb's occupant," he said.
Meanwhile, Jiangxi province has set up several labs and research teams to work separately on archeobotany and zooarcheology, as well as to study unearthed textiles, metals and historical records.
Li Xiaojie, deputy minister of culture and director of the State Bureau of Cultural Relics, has urged that the cemetery apply for classification as a UNESCO World Heritage Site.
You can share this story on social media: