Kim Dotcom runs 'Trump vs Clinton vs Putin' Twitter poll, result is something you'd expect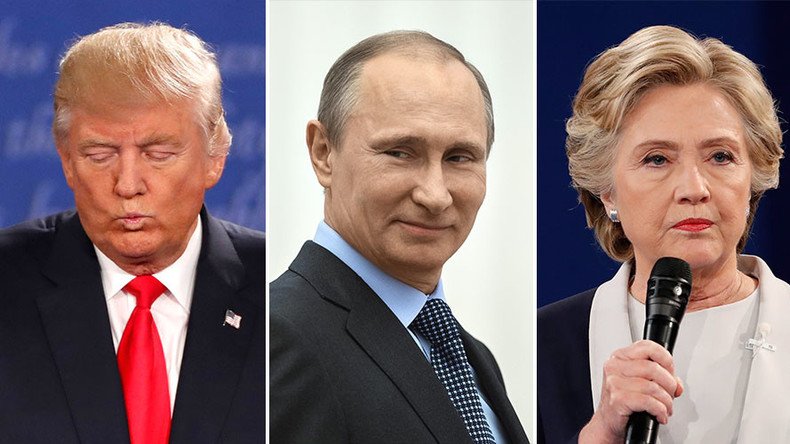 He's not American, nor in the race for the White House, but Vladimir Putin is a more popular choice for US President than Donald Trump or Hillary Clinton in a new Twitter poll conducted by Kim Dotcom.
The Russian president is currently polling at 65 percent, with Trump at 21 percent and Clinton at 14 percent with over 5,000 votes cast. The poll asking "Who do you want to be the next President of the United States?" was posted on Twitter by internet entrepreneur Kim Dotcom.
Putin's lead in the polls comes as no surprise as the US sees an election bitterly disputed between two of the least popular candidates in history.
Sunday's debate saw Trump attacked over a video which emerged of him boasting about being able to "grab" women "by the p*ssy," in a conversation with TV host Billy Bush in 2005.
Clinton faced further attacks over the use of a private email server and a Wikileaks release which included transcripts of some of her paid speeches before Wall Street firms.
READ MORE: 'I'm kind of far removed': Clinton admits estrangement from middle class in Wall Street paid speech
Some commenters on the poll suggested Bernie Sanders and even pornographic actor Ron Jeremy would be better candidates than Trump or Clinton.
Dotcom did not say who he would vote for but it seems he's not a Clinton supporter, tweeting support of the publication of thousands of DNC emails by Wikileaks, which he says expose Clinton's "dirty politics."
"Hillary Clinton signed my extradition request. I've signed her final chapter in politics. Maybe," he said in a message.
Dotcom, originally from Germany, is currently fighting extradition from New Zealand to the US, where he faces copyright infringement and money laundering charges over his now-defunct file sharing website Megaupload.
READ MORE: NZ Court hears closing arguments in Kim Dotcom's US extradition appeal hearing
US authorities claim four men including Dotcom paid users to upload copyright-protected content to the site, generating over $175 million. Prosecutors also argue that Megaupload cost copyright holders more than $500 million.
You can share this story on social media: