'Killer clown' scares woman into premature birth
Published time: 11 Oct, 2016 08:51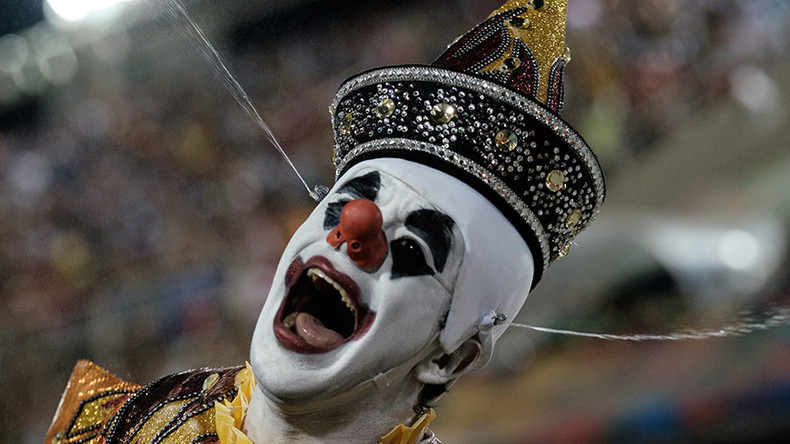 A UK woman who was eight months pregnant prematurely gave birth after she was startled by a 'killer clown'. The woman is said to be doing well after a 17-year-old frightened her as part of the bizarre craze.
The latest victim of the clown craze was reported on Facebook by a friend of the woman, who described the incident saying a "stupid 17-year-old kid" jumped on the mother-to-be dressed as a clown in Whitwick, Leicestershire.
"It's a nonsense craze that needs stopping," she added.
Comments on the post show anger at the growing craze, which has left many petrified and threatening a violent response if a clown approaches them.
"Something needs to be done about this asap... the little bastards need their legs breaking!!!!" said one commenter.
"The person who jumped out needs prosecuting! I'm 38 weeks pregnant and petrified of clowns I think I'd die on the spot," one woman said, threatening to press charges from beyond the grave.
'Killer clowns' have been spotted all over the UK in recent weeks following a worldwide craze in which pranksters dress as disturbing clowns in order to prey on people's fears. Clowns have been spotted following people across dark car parks, emerging from bushes and chasing scared pedestrians.
There have been no injuries reported in the UK but as the craze grows clowns have been trying to outdo each other, sometimes brandishing weapons. Police issued a warning to pranksters that they could end up in jail after clowns reportedly armed with knives followed children to a school in Durham.
In Manchester, a clown wielding what appeared to be a machete terrorized drivers stopped at traffic lights. One driver was so disturbed that he or she sped through a red light. Luckily no one was physically harmed in the incident.
READ MORE: Police threaten 'creepy clowns' with jail as craze turns nasty & terrifies Britain
Author Stephen King, who is to blame for most people's fear of clowns thanks to his creation 'Pennywise' in the book 'IT', has taken to Twitter to ease the tension caused by the craze, warning that there are good clowns too, of whom people shouldn't be terrified.
Hey, guys, time to cool the clown hysteria--most of em are good, cheer up the kiddies, make people laugh.

— Stephen King (@StephenKing) October 3, 2016