Chemical tanker carrying caustic soda sinking off coast of Japan (VIDEO)
Published time: 30 Sep, 2016 09:05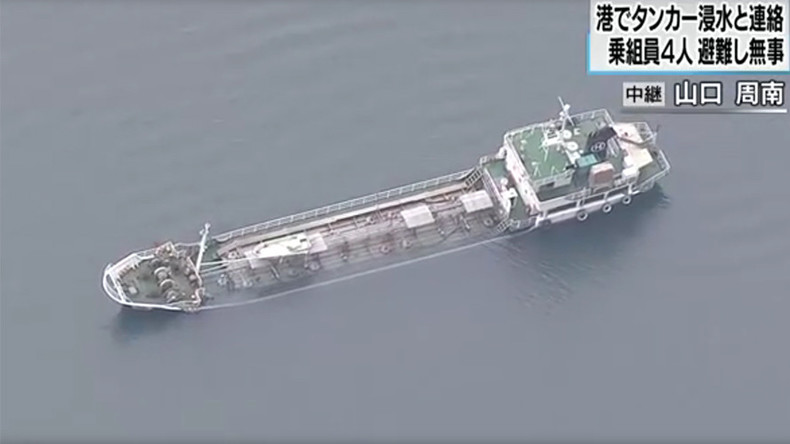 A chemical tanker has begun to sink off the coast of Japan, with aerial footage showing the vessel flooded and tipped to one side. The ship was carrying four crew members and 400 tons of sodium hydroxide, according to Japanese media.
Footage from NHK news outlet shows the ship inclined at about 45 degrees, as water poured onto the deck of the 'Hirokazumaru' vessel on Friday morning.
The Japanese Coast Guard was deployed, and the four crew members on board were told it was safe to evacuate.
The ship began to sink while it was sailing off the coast of Tokuyama Kudamatsu Port in Yamaguchi prefecture. It was heading to Etajima in Hiroshima prefecture.
READ MORE: At least 12 dead as Thai boat capsizes, dozens missing (VIDEO)
The boat, which is approximately 50 meters (164 feet) in size, is owned by Tokyo-based chemical manufacturer Tosoh Corporation.
The vessel was carrying 400 tons of sodium hydroxide, also known as caustic soda, which is often used as a chemical base in the manufacture of pulp, paper, textiles, drinking water, soaps, detergents, and drain cleaners.