Transgender couple becomes world's first to give birth (PHOTOS)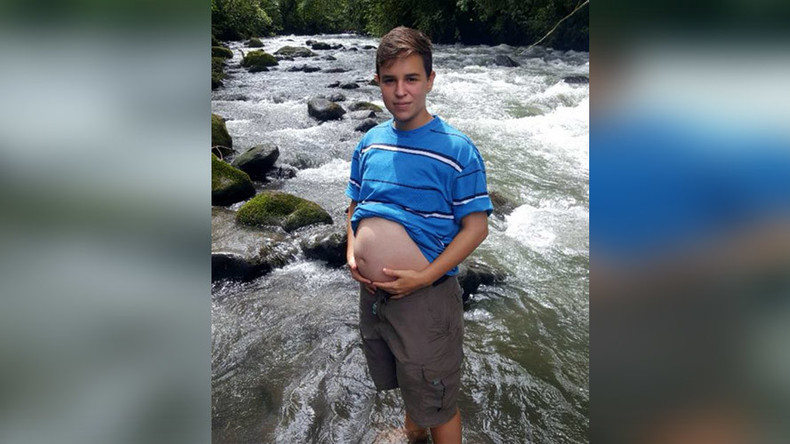 A couple from Ecuador, both of whom are transgender, has given birth to a child. The pair are thought to be the world's first to do so.
Fernando Machado, who was born Maria, and his partner, Diane Rodriguez, who used to be a man, gave their first interview since the child's birth in June.
Neither of the two, who met on Facebook, have had gender reassignment surgery meaning they were able to conceive a child naturally, although on the surface it looked like their roles had been reversed.
In an interview with the BBC, Machado said the couple "are the same as other families... even though we might not have the same rights, we're the same."
As of yet, the child has not been given a name but is known as Caraote, which means "the snail".
Diane, who was previously known as Luis, said being a parent isn't something she thought would happen to her.
"Being a mother was never something I thought I would do because I am a transsexual," she said. "The law before demanded that to be recognised as a woman you had to be castrated."
READ MORE: More transgender men using fertility treatment to get pregnant
The couple shared numerous updates on social media throughout the pregnancy, as well as the aftermath, including a sonogram of the child, an image from the delivery room and also a picture of the scar left following Fernando's cesarean section.
Speaking in December 2015, Diane said it was the couple's "wish" to have a child as "there was nothing biological or legal to stop us, so we decided to do it."
"We live as man and woman. I'm a transfeminine woman and Fernando is a transmasculine man," said Diane. "The process to get here was complex for each of us. Knowing it's our right, we decided to add another member to our family. "
Diane works as an LGBT rights activist and has been abducted on a number of occasions due to her high profile when it comes to transgender rights in particular.