Ambulance explodes outside hospital, killing patient (VIDEOS)
Published time: 23 Sep, 2016 11:38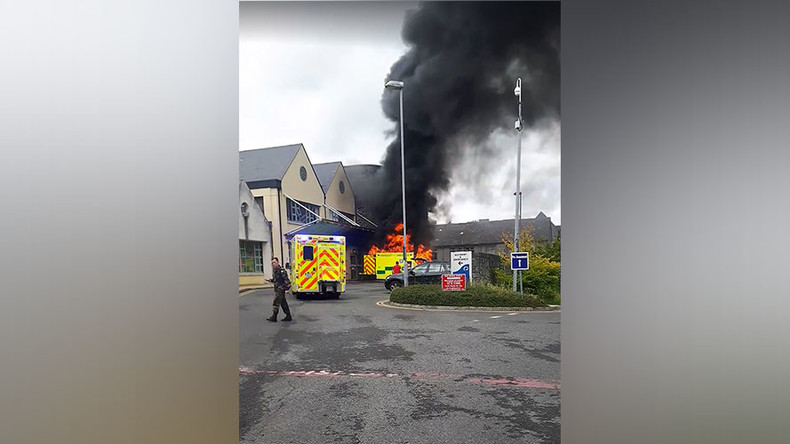 An elderly man has died after the ambulance he was traveling in burst into flames outside a hospital in Ireland.
The horrific incident took place right outside Naas General Hospital in County Kildare. The victim has been named as Christopher Byrne and local reports say he was around 70 years old.
Witness Rob Moore was inside the hospital when the fire alarm sounded. He toldThe Irish Times that he went outside after hearing a bang. "I don't know what actually happened, but the whole thing just went up [in flames]," he said.
Two paramedics were injured following the blast as they attempted to save the patient from the flames.
"As I came out of the door of the hospital I could see two paramedics at the back [of the ambulance], one of them was really severely burnt," Moore said.
"I think there was a fireman there, who was off-duty, he started to get things under control.
"Everyone was pulled away from it then."
One of the paramedics, a man in his 30s, suffered severe burns to his head, face, torso and arms and was taken to a specialist burns unit at St James' Hospital, Dublin. Despite the severe burns his injuries are not believed to be life-threatening. The second paramedic was treated for shock.
A neighbor of Byrne told the Irish Independent: "He was the nicest man in the world, I just don't know what else to say. It's terrible and an absolute tragedy."
In a statement, Health Minister Simon Harris spoke of feeling "numb" when hearing of the "terrible tragedy".
"I visited the hospital this evening to extend my sympathies to the family on the death of their loved one," he said.
"I also wanted to support the incredible efforts of the staff in Naas General Hospital on what was an extremely difficult and upsetting day and to convey my hope of a full recovery to the injured paramedic staff."
Ambulances normally carry up to six sealed cylinders of different types of potentially flammable gas to treat patients. The National Ambulance Service has ordered a safety check on all oxygen containers in vehicles throughout the country.
The emergency department of the hospital was temporarily closed following the tragic explosion and three separate investigations have been launched.