Transformers brought to life in bizarre shape-shifting BMW vehicle (VIDEO)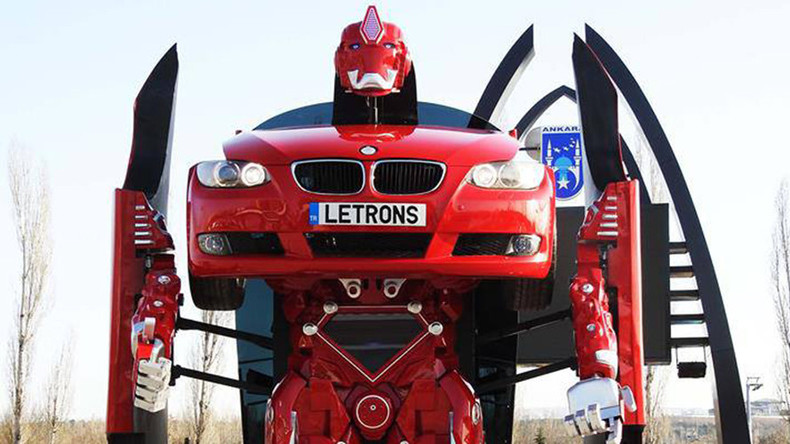 Meet the Letron - a real life transformer that converts from a BMW into an awesome, giant robot complete with powerful arm movements and a creepy cyborg face.
The incredible driveable transformer has been unveiled by Turkish company, Letvision, in a move that will no doubt shake up the potential market of hitech, futuristic cars.
READ MORE: Robo-tractor: Slick self-driving vehicle heralds remote-control farming (VIDEO)
A new video of the awesome prototype recorded during its first outdoor test shows the remarkable transformation of an apparently standard BMW into a massive operational robot.
The video shows the car driving, while being controlled remotely, before parking and undergoing an epic transformation.
The Letron is being promoted by Letvision as "the first and only of its kind in the world with full performance conversion and excellent technical data."
The intimidating cyborg took 12 engineers and four supporting technicians eight months to complete.
While the transformer prototype can't walk, it can move its head and neck as well as its arms, wrists and kinetic fingers. Engineers at the R&D company say a walking functionality can be added at an extra cost.
The robo-car also comes with a dynamic lighting system, WiFi technology and a smoke machine for added fearsome effect.
The car is equipped with an electric engine but can only be certified roadworthy after some further development. For the moment it can only function through remote control.
The company has so far only used BMW's as a base for their incredible machine but says the transformer inspired process can be applied to any car.
The Letron is for sale but the company won't sell their impressive robot car hybrid to just anyone, saying that the buyer's reasons for wanting the vehicle must meet the company's "criteria" - though they don't specify what this criteria entails.
No prices have been publicly revealed for those wanting a life-sized functional version of their favorite toy, however we're pretty sure it's going to be the reserve of gadget loving billionaires.