Lost text of charred Old Testament scroll revealed by 3D 'unwrapping' (PHOTO)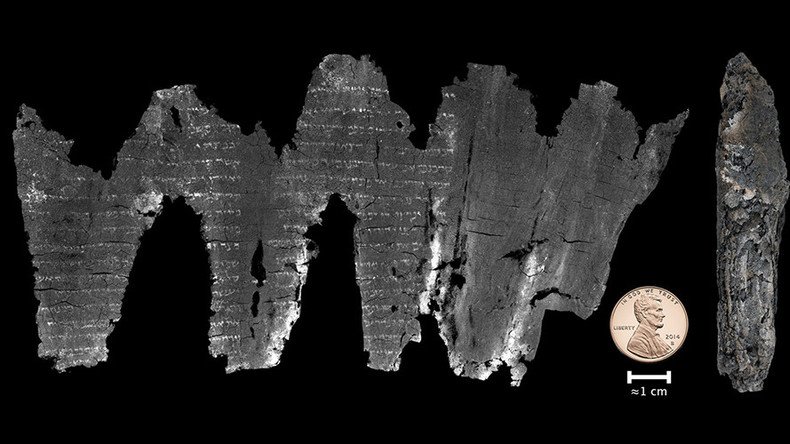 Scientists have digitally unravelled the mystery contents of an ancient Hebrew scroll almost entirely destroyed in a fire more than 1,400 years ago.
Since 1970 the En-Gedi scroll, discovered in a holy ark by archeologists studying a destroyed synagogue, has lain in Israel Antiquities Authority storage. The charred animal skin was rendered unreadable due to its disintegrating pages.
READ MORE: 'Incredible' 2,000yo skeleton found in ancient Antikythera shipwreck (PHOTO, VIDEO)
However, through a collaboration between the Hebrew University of Jerusalem and the University of Kentucky, the text has now been unlocked through computer aided "virtual unwrapping" and a technique known as x-ray microtomography.
Radiocarbon dating of the artifact suggests it dates back to the 3rd or 4th century AD, although some historians suspect it could be older.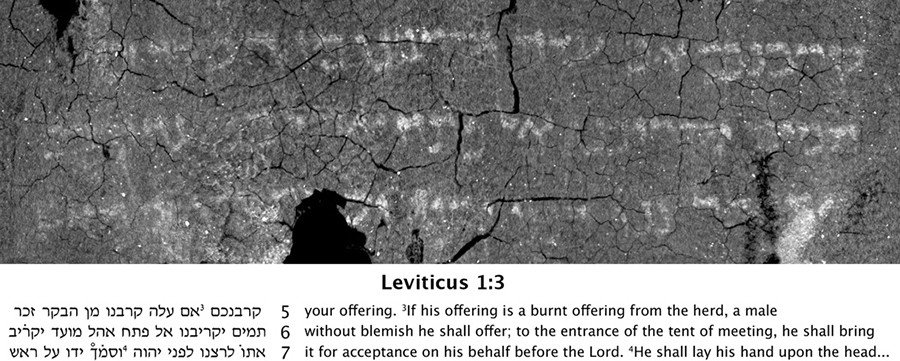 The Hebrew script has been found to be the oldest example of a Pentateuchal scroll outside of the 3rd-century BC Dead Sea Scrolls, and details of its restoration have been published in the Advancement of Science journal.
"Each fragment's main structure, completely burned and crushed, had turned into chunks of charcoal that continued to disintegrate every time they were touched. Without viable restoration and conservation protocol, physical intervention was unthinkable," the journal article states.
"Like many badly damaged materials in archives around the world, the En-Gedi scroll was shelved, leaving its potentially valuable contents hidden and effectively locked away by its own damaged condition."
The complex project involved x-raying the ink scroll's remains and remastering them as a 3D image. The damaged layers were then isolated digitally through a process called segmentation. Afterwards, the scroll's layers were flattened into 2D images and a texture added so that the surface could be easily viewed.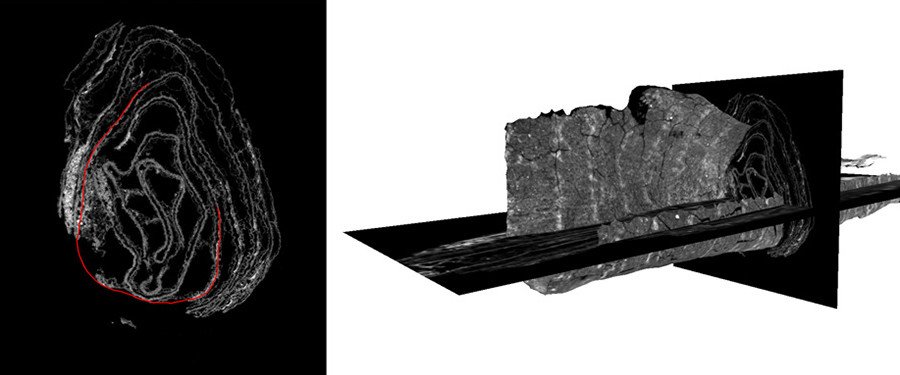 The computer-imaging technique revealed the ancient scroll contains the Old Testament's Book of Leviticus. Eighteen of the script's 35 lines have been fully preserved while the other 17 were reconstructed.
According to the team behind the salvage effort, the text contains no vowels and is identical to the "medieval" wording of the Hebrew Bible. The de-layering of the burned scroll is being heralded as a significant discovery in biblical archaeology.
"We were immediately struck by the fact that in these passages, the En-Gedi Leviticus scroll is identical in all of its details both regarding its letter and section division to what we call the Masoretic text, the authoritative Jewish text until today," Dr Michael Segal, part of the project, told Australia's ABC.
You can share this story on social media: