Chechnya leader Kadyrov celebrates Women's Day in suit of armor (VIDEO)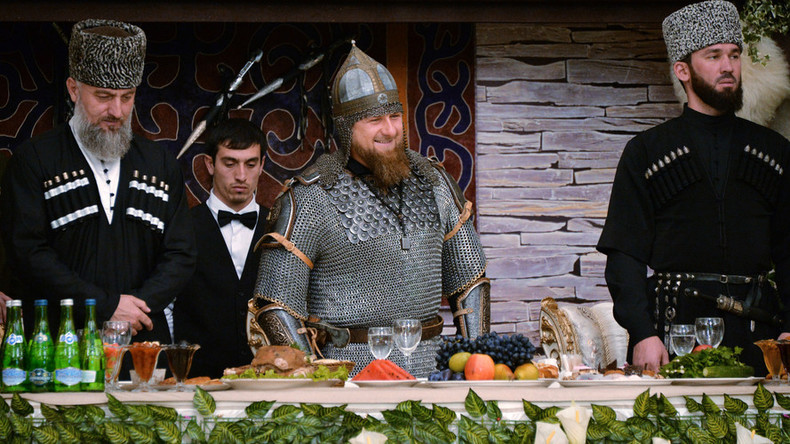 The head of the Chechen Republic Ramzan Kadyrov wowed his all-female audience in Grozny by turning up to a ceremonial event dressed as a medieval warrior, complete with a rather large spear.
To celebrate Chechen Women's Day on Sunday, he turned up to the Safiya Palace of celebrations in the capital, Grozny, wearing rather unusual attire: a suit of armor, complete with helmet and spear.
"I have said before on a number of occasions those Chechen women have lived through a number of tragedies. Now it is time that they should enjoy life and not worry about the safety of their children, loved ones and those close to them," Kadyrov wrote on Instagram.
Hundreds of women from local dance and cultural groups from within the republic turned up to the palace to enjoy the festivities. He also praised the role of women from the former war-torn republic, which has undergone a transformation over the last few years.
"It pleases us that people from Chechnya are reaching new heights in science, culture, medicine and public life," he said. "I warmly congratulate all the women from Chechnya and wish them peace and prosperity," the head of the Chechen Republic wrote on his Instagram feed.
Chechen Women's Day has been celebrated on the third Sunday of September since 2009, and is held to remember the lives of 46 Chechen women who died during the war in the Caucasus.
The women were each given a bouquet of flowers to acknowledge the celebration, while the evening was rounded off with a fireworks display.
It was a double celebration for Kadyrov on Sunday, as he won 98 percent of the vote in elections to select the head of the Chechen Republic. He has held the position since 2007.