Jean-Claude Juncker dismisses drunk claims ... while 'downing 4 glasses of champagne'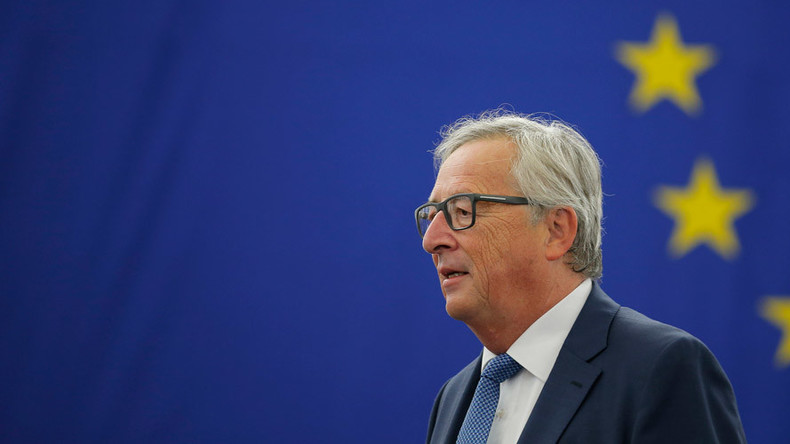 President of the European Commission Jean-Claude Juncker dismissed claims that he is an excessive drinker… during a boozy interview.
The 61-year-old sat down for lunch with a French journalist to put an end to the years-long rumors about his overly "sociable" lifestyle, while downing four glasses of champagne.
The former Luxembourg Prime Minister was plagued by "drunk" claims following his bizarre behavior at an EU summit last year, which saw him shell out face slaps and kisses to fellow leaders in front of awaiting media.
And in 2014, allegations of Juncker's heavy drinking at high-level meetings emerged, with one senior EU diplomat alleging he "has cognac for breakfast".
In a recent interview with French newspaper Liberation, Junсker attempted to dispel rumours of his alcoholism.
READ MORE: 'Drunk' EU chief Junсker face slaps world leaders at summit in resurfaced viral video

However, the article didn't get off to a great start when the journalist recalled seeing Juncker down three glasses of cognac at the end of a lunch "after drinking many a glass of a white wine" when he was Prime Minister of Luxembourg.
"And during our recent lunch, he downed four glasses of champagne, accompanied by a simple salad," wrote journalist Jean Quatremer.
"You think I'd still be in office if I was on cognac from breakfast?" asked Jucker in defense of the criticism. "We can all forgive a politician for anything, except alcoholism".
"It really makes me sad and it has even led my wife to wonder if I lie to her, as I do not drink when I'm home," he added.
Juncker insisted the only "personal problem" he has is his increased workload since becoming president of the commission.
"I have to work 14, 15 hours a day, and I had not been accustomed to that," he said.