6-yo girl tries to fight off ax-wielding robber in New Zealand (VIDEO)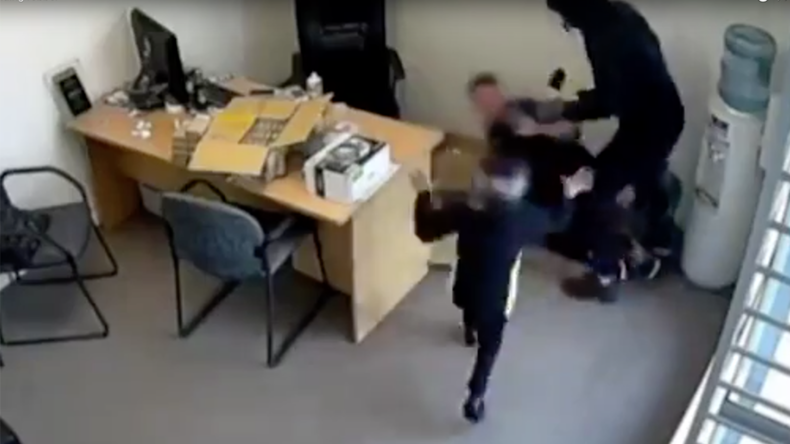 A fearless six-year-old girl tried to save an employee from an ax-wielding robber who was part of a gang raiding her father's store in New Zealand on Monday.
CCTV captured the dramatic moment Sarah Patel tried to stop the armed robber from striking the man after he was forced to the ground by the masked attacker. The young girl said afterwards that she initially thought the man under attack was her father and tried to protect him, TVNZ reports.
Surveillance footage shows Patel grabbing the attacker's leg during the violent incident after six armed men stormed the family's electrical shop in Auckland.
The young girl was shaken up by the event, but told TVNZ, "I thought it was my dad."
READ MORE: Swedish 'bikini cop' tackles mobile phone thief while sunbathing (PHOTO)
Her father, Suhail Patel, said his daughter was very brave for standing up to the robber and that she was "always trying to help people."
"We've been trying to say to her, 'you're the bravest girl,' that sort of thing," Patel told the news channel.
The gang fled the scene with bags of mobile phones before being pursued by police, first by car and then on foot. Five teenagers were arrested and one suspect is still being sought, Newstalk NZ reports.
It appears that New Zealand is not a happy hunting ground for armed robbers.
In July, a kebab shop owner in Christchurch calmly ignored an armed robber and continued placing an order into a bag before handing it to a waiting customer while the gunman continued to demand cash.
When the robber realized he wasn't getting anywhere, he left, empty handed.
READ MORE: 7-year-old wielding stuffed animal tries to fight armed robber [VIDEO]
You can share this story on social media: