7-year-old wielding stuffed animal tries to fight armed robber [VIDEO]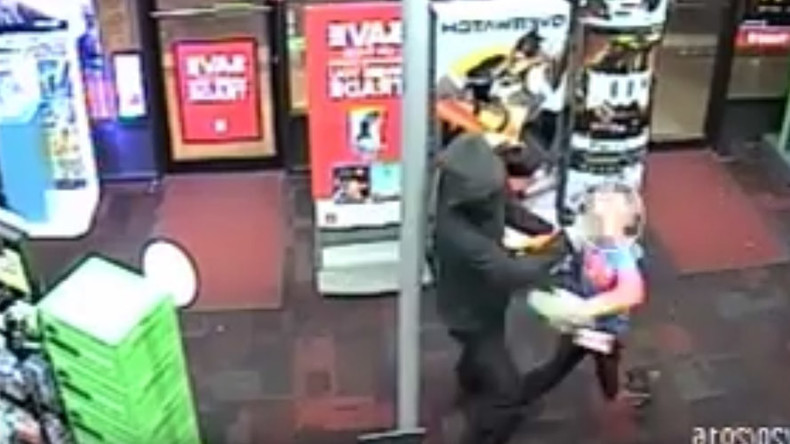 A boy shopping for a stuffed animal was caught on tape trying to fight off an armed robbery inside a Maryland video game store. Surveillance video shows the 7-year-old desperately striking one of the suspects with a stuffed animal that he was holding.
Two men armed with handguns and wearing masks and hoods entered a GameStop in Silver Spring, Maryland last week. The video from inside the store shows the boy attempting to fend them off with a plush of a video game character.
The video then shows the assailants accosting the man and woman working behind the store's counter. They two clerks were ordered to the floor, and the men stole an undisclosed amount of cash.
"He saw somebody who was a stranger, who seemed most dangerous to him and he tried to defend himself," the boy's father, who was in a different part of the store, told a local Fox News affiliate. "I think it was his natural instinct taking over there."
Investigators said in a statement that one suspect also ordered three customers, including the boy, to stand against the wall, an event that was not shown in the video that was released.
The manager of the store gave the little boy the Yoshi doll that he hit one of the robbers with, and his father told The Washington Post that he now carries it around their home.
"He feels like it's being protected," the father told the Post.
Montgomery County Police released the footage Wednesday in hopes that the public could help them identify the robbers.
No arrests have been made, but police say that they are searching for suspects that they describe as two black males in their 20s, both of whom are approximately 5'6" tall weight 170 pounds. They were wearing black hooded sweatshirts, black pants, gloves and masks covering the lower halves of their faces.
Police said that anyone with information about the crime should call the department's Robert section 240-773-5070, or contact Montgomery County Crime Solvers at 1-866-411-TIPS to remain anonymous.
Crime Solvers is offering a $10,000 cash reward for information leading to an arrest.
You can share this story on social media: