Burning the man: Da Vinci's designs take centerstage in Black Rock City (LIVE VIDEO, PHOTOS)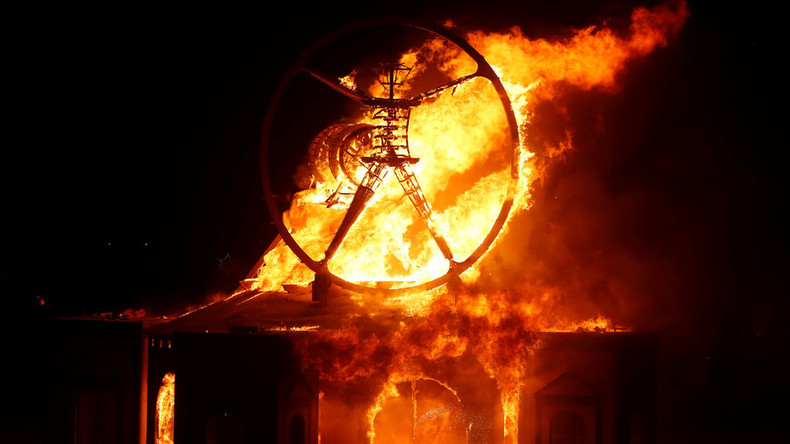 Burning Man is in full swing this week at the temporary global village called Black Rock City - as more than 70,000 attendees watched the titular event Saturday night.
Watch festivities throughout the weekend live on RT.com/On-Air
The 30-year old event attracts party people, artists, and inventors from around the world the week before Labor Day.
The celebration of living art structures and individuality is described as an "annual experiment in temporary community dedicated to radical self-expression and radical self-reliance."
This year's art theme "Da Vinci's Workshop" draws parallels between the Italian city of Florence and Black Rock City.
"It was here, in a city-state of about the same size and population as Black Rock City, that humanist ideals, a rediscovery of science and funding from a newly moneyed class of entrepreneurs fueled a revolutionary cultural movement that redefined Western civilization," the festival's website explains.
The city's grid system is designed as an ever-growing near-360 clock with the giant wooden structure as the centerpiece, modeled on da Vinci's Vitruvian Man.
A series of gears and pulleys allowed attendees to rotate the man throughout the week before its destruction in a flaming extravaganza Saturday night.
One of the more eventful moments of the week was when the man got stuck upside down and without a head.
But at least he didn't burn early this time like in 2007.
A walk through the self-made desert town is a feast for the senses.
From a 747 kitted out with neon and art installations, to an orgy tent, Burning Man has something for everyone, assuming you can get a tourist visa into the US of course.
The first fires were lit on Friday afternoon, sending plumes of dark smoke into the desert sky.
The impressive Catacomb of Veils by Dan Sullivan burned Friday night.
The Space Whale features an adult sea creature made of stained glass and a baby made of metal, complete with whale songs as you approach.
While the festival claims to be inclusive and participatory, Black Rock City is overwhelmingly white, making up 87 percent of attendees in 2014.
Those of African descent represent a mere 1.3 percent and just 16 percent at the so-called "world" party are foreigners.
At this year's event, a Black Lives Matter installation at Que Viva camp drew attention to victims of police brutality in the US.
The event was born in 1986 when Larry Harvey and his friends held a bonfire ritual during the summer solstice on a beach in San Francisco.
The fest's original barter ethos survives, but the once-alternative event is now a must-do for Silicon Valley's elite and celebrities.
Even president Barack Obama referenced it at his final White House Correspondents' Dinner in April.
While internet access used to be minimal, it now allows for those who can't turn off their phones and just enjoy their surroundings for one week to post loads of social media.
This year's Burning Man saw Google's Larry Page, Amazon's Jeff Bezos, and first-timer (aka "virgin") Paris Hilton among the attendees.
In 2014, Elon Musk said Burning Man "is Silicon Valley," but don't let that stop you from putting it on your bucket list.
With the millionaires and billionaires flocking to the desert, luxury camps, helicopter rides, and a temporary airport are popping up alongside the more rustic accommodation options.
True burners usually sleep in tents, often as part of "theme camps" that feature their own shade structures to protect from the brutal desert sun and 100-plus degree heat...
...build "evaporation ponds," which disperse run-off from showers so gray water is absorbed by the sun...
...and fully stock kitchens capable of preparing finger sandwiches for high tea at Brit Camp or a big feast to soak up all the drugs and alcohol.
Although one of the key components of the event is radical inclusiveness, Burning Man remains inaccessible for those who can't get past America's strict border controls and tourist visa requirements, making Black Rock City an impossible dream for the billions of humans who aren't billionaires.