Nerve-shredding footage shows cop's desperate struggle to save man from oncoming train (VIDEO)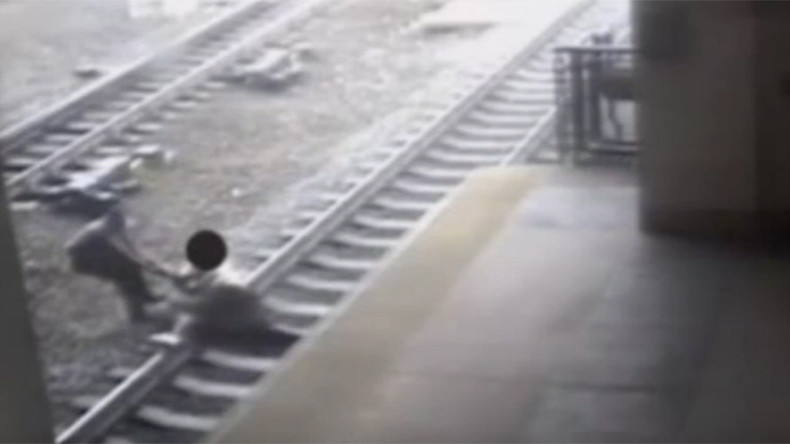 Dramatic CCTV footage has captured the moment a brave New Jersey transit cop pulled a man from railway tracks two seconds before a commuter train passed by.
The incident occurred at Secaucus Junction on Friday evening after Officer Victor Ortiz responded to reports of a disturbance onboard a train. The suspect disembarked, before being pursued along the platform of the station and onto the tracks.
It's at this point that CCTV shows the bizarre and heartstopping action unfold. The man appears to lie along the tracks, refusing to move and resisting attempts by Ortiz to pull him to safety.
After grappling with the suspect's arms for a number of seconds, the officer eventually drags him out of the path of an oncoming train - just in the nick of time.
New Jersey Transit issued a statement Sunday, praising Ortiz for his bravery.
"Officer Ortiz's selfless and heroic actions demonstrated a level of bravery and a true sense of compassion and purpose that often goes unrecognized but is ever present in our law enforcement community," it read.
"NJ Transit could not be more proud of Victor Ortiz and of the New Jersey Transit Police Department and we hope this serves as a stark reminder of what these men and women do every single day to keep us safe throughout this state."