NASA's Juno spacecraft makes first close flyby of Jupiter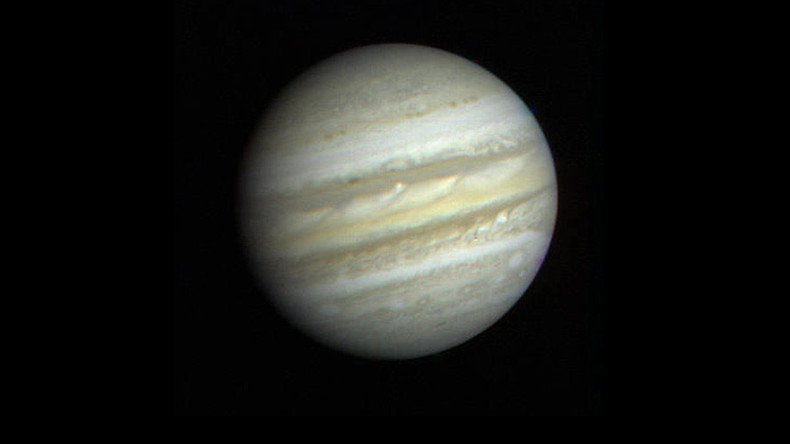 Juno, a NASA spacecraft on a mission to Jupiter, made record-breakingly close contact with the giant planet for the first time.
At approximately 5:51 am PDT (8:51 am EDT, 12:51 UTC) on Saturday, Juno got within 2,600 miles (4,200 km) of the gas planet's clouds, whizzing by at a speed of 130,000 miles per hour (208,000 km/h). This marks the first of 35 such orbits that Juno will make throughout its mission, which is expected to run until February of 2018.
READ MORE: Juno entering Jupiter's orbit: 5 things you need to know
"This is the first time we will be close to Jupiter since we entered orbit on July 4," said Scott Bolton, Juno's principal investigator.
All of Juno's eight science instruments were turned on for the monumental orbit and initial data is expected to make its way to Earth within days, although "interpretation and first results are not expected for some time."
"No other spacecraft has ever orbited Jupiter this closely, or over the poles in this fashion," said Steve Levin, a Juno project scientist.
"This is our first opportunity and there are bound to be surprises. We need to take our time to make sure our conclusions are correct," Levin added.
READ MORE: NASA releases 1,300 raw images of Juno's approach to Jupiter (VIDEO)
Some high resolution images of Jupiter are also expected to be released by the end of next week, as the spacecraft's visible light imager, JunoCam, captured some close-ups.
Juno, which took five years to reach the solar system's largest planet, is taking over for Galileo, a spacecraft that orbited Jupiter and its moons from 1995 to 2003, but at a much farther distance.
You can share this story on social media: