Traces of steel & porcelain found on 3rd day of search for Nazi gold train (PHOTOS)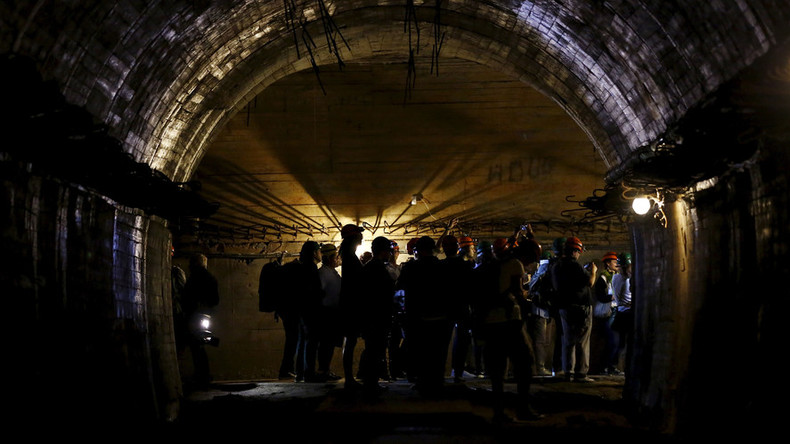 The search for the so-called Nazi gold train entered its third day in Poland and treasure hunters remain optimistic after unearthing traces of steel and porcelain at the site of the dig.
While the train itself, which is supposedly laden with gold, jewels and weapons, has not been found, and neither have the tracks it would have been on, the slow and arduous task of removing tonnes of soil may be yielding some positive signs.
Located along a stretch of railway between the cities of Wroclaw and Walbrzych in southwest Poland, the team have been digging into what they believe is a manmade embankment along the railways tracks.
Earlier in the week, the team encountered "very heavy rock" around five meters down with the hypotheses being that the a tunnel may be underneath it.
READ MORE: 'Non local' material found on day 2 of treasure hunt for Nazi gold train (UPDATE, PHOTOS, VIDEOS)
The team were due to utilize a drill to break through the rock on Thursday to see what is below, but this did not happen, with the team continuing to dig down into the embankment at a different location instead.
Fragments of porcelain and steel were uncovered, however, which is not native to the area, according to local media.
Laser scans of the terrain at the site have also indicated a strong presence of iron at the site.
This may, they hope, indicate the presence of the train meters below their current depth. It's understood a team of geologists are examining the soil to confirm or deny whether it is from the area.
While work will be continuing at the site on Friday, Andreas Richter, one the organizers of the dig, told journalists they should have a better idea of what is or isn't under the embankment on Saturday.