'Non local' material found on day 2 of treasure hunt for Nazi gold train (UPDATE, PHOTOS, VIDEOS)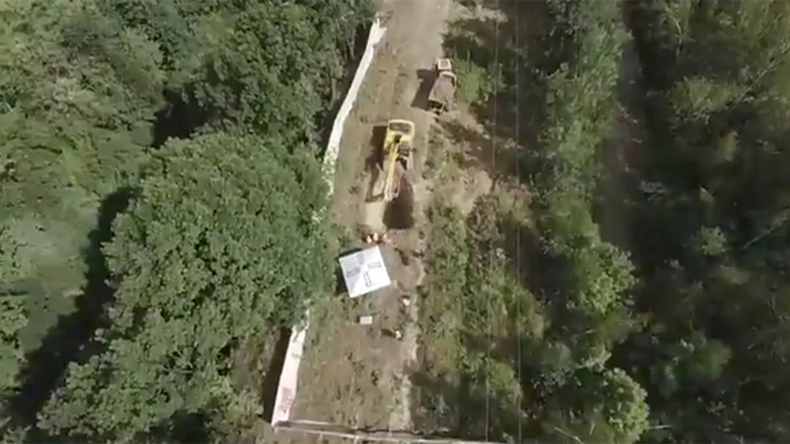 Hunting for gold requires patience, but the anticipation of discovering a lost Nazi train is killing the internet.
UPDATE: Wednesday the team announced they found "non local" material which they say is further proof the embankment they're digging into is man-made. No tracks have yet been found, however. Digging resumes on Thursday.
A group of DIY treasure hunters in Poland entered day two of their dig Wednesday, after making some progress the day before, albeit not as much as they promised on Monday.
READ MORE: Nazi gold train could be discovered this week as researchers get ready to dig
Unearthing 300 tons of gold hidden in a tunnel by the Nazis in 1945 takes time, apparently. And a lot of money.
The dig resumed Wednesday morning with the group moving to where they think the entrance of the tunnel was.
An impromptu Polish-language press conference following their dig was streamed live on Wednesday morning but didn't reveal too much.
A follow-up in the afternoon didn't have the proof the world is waiting for, but they did confirm more "non local" material which they say is headed in the right direction.
The team of up to 35 people began digging into an embankment alongside a stretch of railway track between the cities of Wroclaw and Walbrzych in southwest Poland on Tuesday.
During that effort, the team dug up to a depth of 12 meters (36ft). While they didn't find the mysterious train, they did uncover a line of "very heavy rock."
During a press conference at the site Tuesday evening, Christel Focken, a spokesperson for the exploration group, suggested a tunnel may be under this rock, but some social media users have noted that such rock would be normal for the area.
The team did unearth materials in the soil which they said were not native to the local area.
Focken said she's "hopeful" this means the mound they're digging is a man-made structure.
The team will return to the site on Thursday to dig in a third location along the embankment.
Locals believe a stretch of tunnel buried under the earth is the hiding place for a train filled with gold and weapons by the Nazis before World War II ended in 1945.
You can share this story on social media: