Adventurer surfs meters from lava-spewing volcano in Hawaii (VIDEO)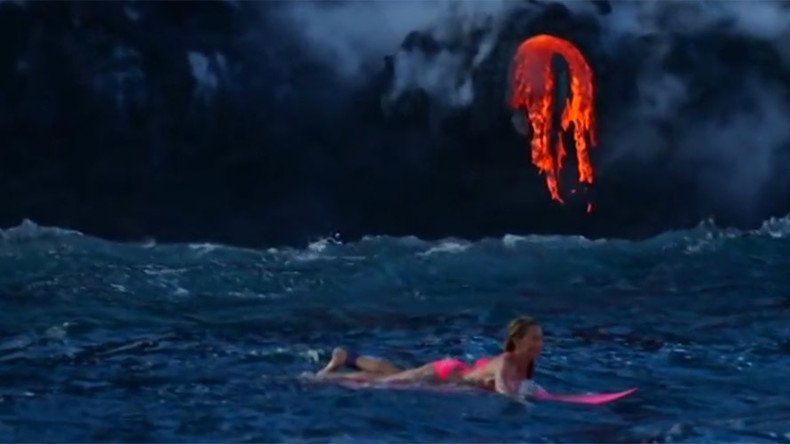 An awesome video shows a daredevil surfer going to extreme lengths to catch some waves, getting up close and personal with an erupting volcano in Hawaii.
Alison Teal, dubbed the "Female Indiana Jones," earned her title as she swam and surfed at the base of the erupting Kilauea Volcano.
Hawaii's Kilauea Volcano began erupting in May and started flowing into the ocean at the end of July, the first time since 2011.
Alison described the fiery challenge on her Instagram account as "perhaps the most powerful experience of my life."
Growing up in Hawaii, she said "the ancient lava field in front of my house became the only Hawaii 'playground' I knew."
"Coming back to Hawaii and seeing lava made me feel at home - it was literally & figuratively the rock in my life."
Teal consulted with elders for advice to follow specific traditions in respect of Pele, the goddess of the Volcano, who is a revered and often feared force on the Big Island.
The adrenaline seeker however would not recommend the bodacious experience to others. She warned: "The water is boiling, the fumes are lethal, and the ocean is treacherous!"
Kilauea is one of the world's most active volcanos and has attracted thousands of extra visitors to its site as lava reached the coast last month.
One particular video captured by Paradise Helicopters of an apparent smiley face in the volcano's crater went viral, creating the nickname the "smiling volcano."
You can share this story on social media: