Extreme landing: Passenger plane overshoots runway in Russia (VIDEOS, PHOTOS)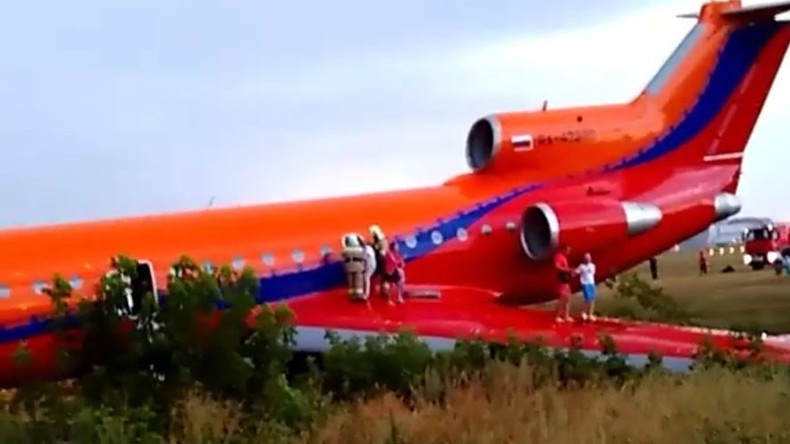 A passenger plane with at least 118 people on board failed to stop on the runway during landing in Ufa, Russia, veering 400 meters from the tarmac into a field. No one was hurt but passengers later described the event as terrifying.
"At first we spent an hour flying in circles above the city, because of the thunderstorm we couldn't land. The plane swayed from side to side, it was scary," one of the passengers wrote on her Instagram account. "The plane started lurching to its left wing and that's when panic hit. Children started crying and screaming, everyone was scared."
The moment the plane steered from the tarmac has been caught on video and posted by Life.ru.
Another video shows the evacuation of frightened passengers from the plane.
"Are you kidding me? So if you get caught in a fire, will you start taking photos, too?" a young woman can be heard shouting at the person taking the video.
The footage was shot by one of the passengers, who comments "this is how we landed" as he points his camera at the plane in a grass field. People can be seen using the emergency exit and walking down the wing with the help of rescuers.
The KrasAvia airlines plane was heading from the Russian Black Sea resort of Sochi to Ufa.
The Yakovlev Yak-42 ruined its chassis and its left wing after lurching onto it while moving. There may have been a problem with the left chassis, ufa1.ru reports.
READ MORE: 24 injured as JetBlue flight makes emergency landing in South Dakota (VIDEO)

The weather conditions are another possible reason cited for the extreme landing, as there was a storm in the region the night before.
"Perhaps this incident occurred because of the storm and rain, but the investigators are looking into all versions of what had happened, the plane's technical condition is being assessed as well as the actions of pilots and ground control," the Volga Federal District Investigation Department press service announced.
All 118 passengers, including 29 children, were evacuated.