Daredevil toys with drop-in of death at Hong Kong skyscraper (VIDEO)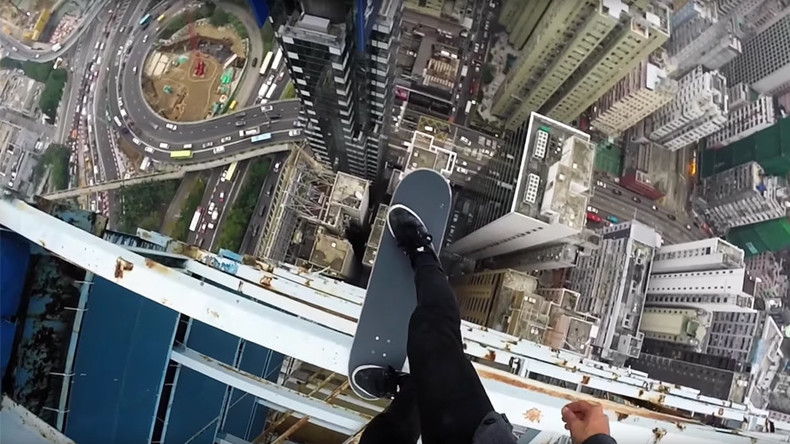 A daredevil has taken the sport of skateboarding to a terrifying and extreme level by balancing on top of a massive skyscraper in Hong Kong.
Adrenaline junkie Cheung Jai has been branded "crazy" for teetering above the bustling city streets as if he was about to 'drop in' with a skateboard from a deathly height.
Instagram video of the high-flying stunt, thought to have taken place in early June, has been garnering thousands of views and comments suggesting the Hong Kong native has a death wish.
The gut-wrenching footage shows Jai climbing over rusted steel girders before positioning himself on the very edge of a towering building.
He then hangs over the side with only the tail end of his board standing between relative safety and falling from the huge height.
Cheung Jai said that his legs were "shaking so hard" during the balancing act, and has assured concerned fans that he is still alive.
Jai's antics provoked a massive reaction online, with some praising his bravery and others describing the trick as the work of a "moron."
"Dude I can hardly watch this stuff, so crazy. You have no fear," said one shocked Instagrammer.
Meanwhile another wrote: "I honestly thought he was going to power Ollie off."
"In 10 years if you [are] still alive you will realize how stupid you are," said one person, clearly unimpressed at his actions.
"What if you would have dropped in and killed someone? F**king moron," wrote another.
Exploring the rooftops of his city appears to be something of a hobby for Jai. Previous posts on his Youtube and Instagram channels show him jumping across skyscraper rooftops and standing on the edge of some spine-tingling drops.