Nothing could stop this man from making his flight (HILARIOUS VIDEO)
Published time: 10 Aug, 2016 00:43
Edited time: 10 Aug, 2016 01:03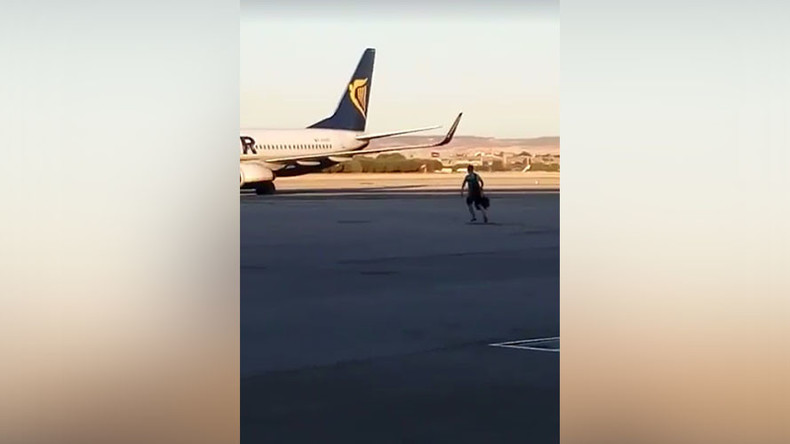 An Irish man took drastic measures to avoid missing a Ryanair flight from Madrid when he managed to jump through security and chase his plane along the tarmac.
Luckily, the epic flight dash was captured on video for our enjoyment.
The man was so late for his flight to the Canary Islands that the plane had already started to move off.
While many of us would admit defeat once staff at the gate said it was too late, this guy somehow got past the desk, ran through the tunnel that was no longer attached to the plane and leaped 10 feet to the ground, cabin bag in hand.
The man then waves at the plane like he is hailing a taxi. He tries to hijack an airport vehicle before continuing in pursuit of the plane.
Just as he gets closer to the plane, he is intercepted by airport staff.
That's where the video ends, but there's more to the story. The determined man managed to get on board the plane and head off to the Canaries.
It's not all good news, though, as the passenger was detained once he arrived in Gran Canaria, presumably crushing his holiday spirit.
The video was posted on a Ryanair and Lesma Handling Facebook page who described the passenger skipping "several security protocols established by AENA in their airports."
"We're talking about level 4 security protocols! Not even with all those protocols we can feel safe," it added.
Is it just us, or does this story sound familiar?