What lies beneath: Ancient viruses, exploding sinkholes & the permafrost melt (VIDEO)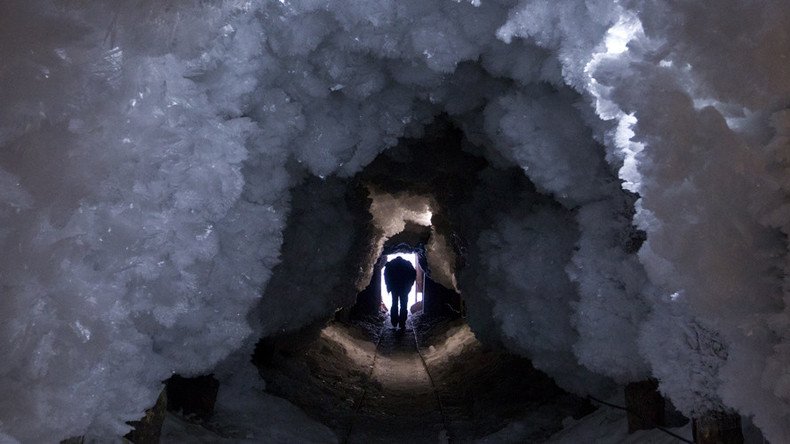 A sudden deadly outbreak of anthrax, long dormant beneath the Siberian permafrost, has put scientists on red alert, stoking fears that Earth's melting tundra poses a serious threat to humanity.
Permafrost can be up to 1km thick. More than 24 percent of the northern hemisphere is locked in a permanent state of deep freeze, some of which dates back to the last Ice Age. But that might not be the case for very long.
In 2013 the United Nations Intergovernmental Panel on Climate Change (IPCC) projected that temperature increases in Alaska and northern Russia could reduce permafrost by between 37 to 87 percent by the end of this century.
READ MORE: Siberia anthrax outbreak: 12yo boy killed, 8 infected as disease returns after 75 years
It's bad news for the human race as the frost has kept a lid on organic matter that now threatens to rot and spew harmful gases into the atmosphere.
If UN estimates are correct, the mass thawing of permafrost in the northern hemisphere could potentially leak 1,700 gigatonnes of carbon and methane, reportedly twice what is already in the atmosphere.
A study published in the journal Nature suggested the breakdown of organic material trapped in permafrost (known as 'carbon feedback') could be what pushes the world's temperature through the roof.
In a BBC interview last year, co-author of the study and University of Alaska professor Vladimir Romanovsky explained how "unbelievable" temperatures in permafrost regions such as the Arctic coast has led him to believe the world is undergoing a "very serious trend of warming."
Recent phenomena linked to this great thaw indicate his concerns are justified, with explosive sinkholes, the discovery of ancient viruses and the destruction of infrastructure plaguing permafrost regions.
Siberian sinkholes
Large craters and bubbles of explosive methane gas in parts of Siberia have been linked to the permafrost crisis.
Last year 20 'baby' craters discovered near a 80-meter sinkhole in Siberia's Yamal Peninsula amazed Russian scientists, who believe they were caused by methane emissions filling pockets of soil once frozen over.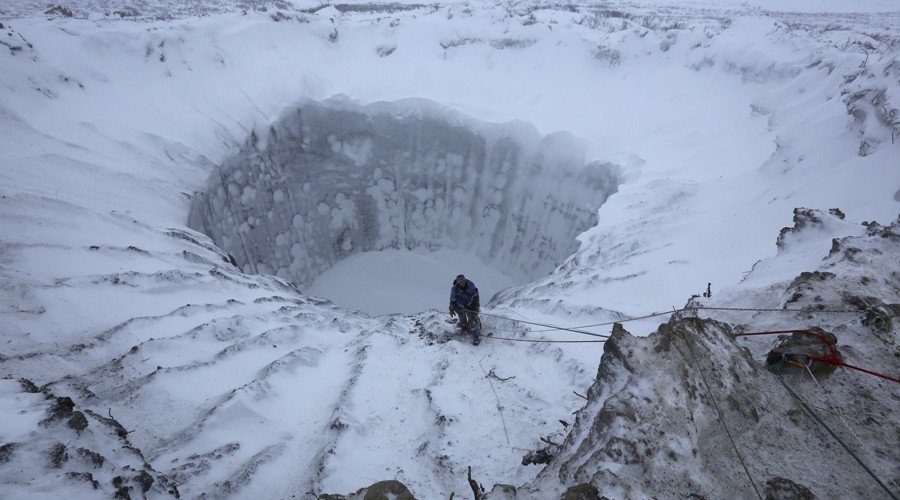 Dormant disease
While the most apparent threat from melting permafrost is the upsurge in greenhouse gases, there is concern about what other surprises lurk beneath.
In 2015, French scientists discovered a fourth dormant virus under frozen wasteland near Chukotka, east Siberia.
"This discovery, which suggests giant viruses are not uncommon and are very diverse, also proves that the capacity of viruses to survive in permafrost for very long periods [exists]," officials from France's National Centre for Scientific Research said at the time.
William Schaffner, from the Department of Preventative Medicine, later told RT that the greatest fear surrounding the discovery was that the 30,000-year-old Mollivirus sibericum could mutate to harm humans.
More recently, anthrax spores from a defrosted reindeer carcass have been blamed for the death of a 12-year-old boy and the evacuation of locals in the Yamalsky area of Siberia.
Sudden soil movement
The permafrost thaw also poses a risk to infrastructure built on what was once solid ground. According to Norway's GRID Arendal, an organization which conducts environmental research, even a change of 3 degrees in permafrost regions can reduce building stability by 70 percent.
Examples of this can be found in North America where authorities have been trying to stave off damage to the Alaska Highway, which runs through the US and Canada.
Last year, a researcher working to restore the stretch of road told CBC News how the major thoroughfare had become infamous for potholes and surface movement due to it being built on permafrost.
Sudden mudslides in other parts of Alaska have also been observed, most recently at Denali National Park where a photographer captured footage of a hillside falling away like "greased butter."
You can share this story on social media: