20 'baby' craters appear near giant hole-turned-lake in Siberia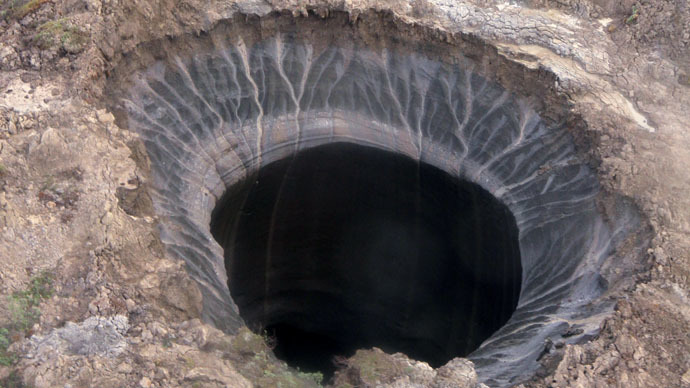 Scientists have discovered 20 'baby' craters which appeared around a giant hole that filled with water in the Yamal Peninsula, according to a media report. This adds mystery to the region's unexplained crater formations.
Satellite images have revealed that over 20 mini-craters have appeared around a recently discovered crater-turned-lake located not far from Gazprom's Bovanenkovo gas field in Russia's northern Yamal Peninsula.

"One of the most interesting objects here is the crater that we mark as B2, located 10 kilometers to the south of Bovanenkovo. On the satellite image you can see that it is one big lake surrounded by more than 20 small craters filled with water," Vasily Bogoyavlensky, deputy director of the Moscow-based Oil and Gas Research Institute was quoted as saying by the Siberian Times.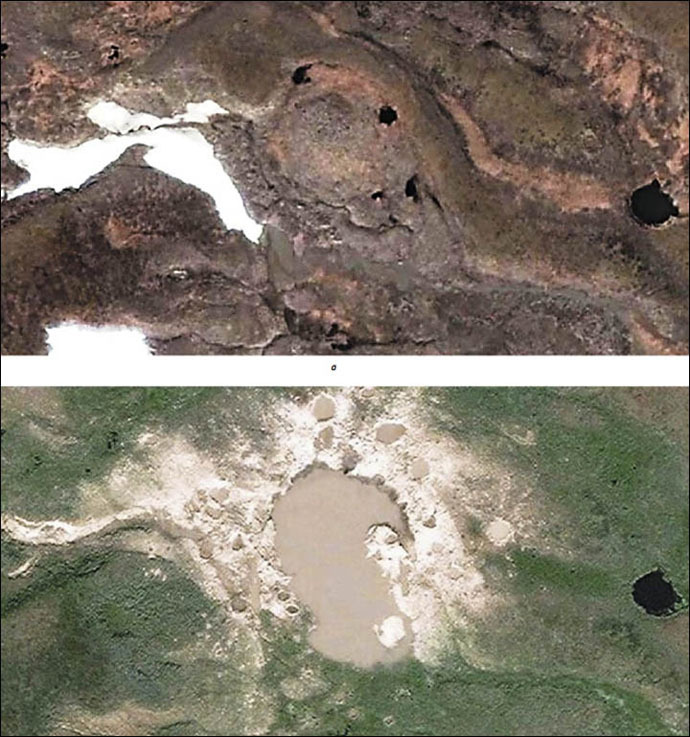 "Studying the satellite images we found out that initially there were no craters nor a lake. Some craters appeared, then more. Then, I suppose that the craters filled with water and turned to several lakes, then merged into one large lake, 50 by 100 meters in diameter."
The region's mysterious craters first made news in 2014, when a giant 80-meter hole was discovered in the Yamal Peninsula, 30 kilometers from the Bovanenkovo gas field. Scientists called it 'B1.'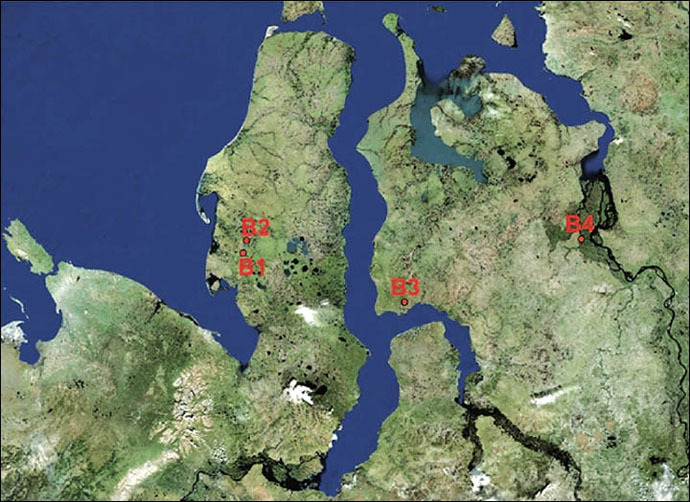 According to Bogoyavlensky, seven big craters are known to researchers at the moment. Five are directly on the Yamal Peninsula, one is on the Russian territory of the Yamalo-Nenets Autonomous District, and one is north of the Krasnoyarsk region, near the Taimyr Peninsula. However, researchers know the exact locations of only four of those craters, he added.
Scientists have developed a theory that the emergence of craters is linked to methane emissions caused by the melting of permafrost due to global warming. In his research, Bogoyavlensky called these mysterious craters "gas blowholes."

Previously, Russian researchers also warned of two potentially dangerous sites located near the B2 crater, where gas emissions could occur.

"These objects need to be studied, but it is rather dangerous for the researchers. We know that there can occur a series of gas emissions over an extended period of time, but we do not know exactly when they might happen," said Bogoyavlensky.
Dozens of new craters suspected in Arctic Russia along with the famous Yamal hole. http://t.co/JOfB26Qbh1pic.twitter.com/haxPuNy0NI

— Siberian Times (@siberian_times) February 23, 2015
Scientists have previously warned that rising temperatures will trigger the melting of permafrost and the ejection of large deposits of gas hydrates. Hydrates contain as much as 10 times more carbon than the atmosphere, while the direct ejection of a large amount of methane can have negative effect on climate.

"We must research this phenomenon urgently, to prevent possible disasters," said Bogoyavlensky.

Warning calls have also sounded from US scientists. Dr. Jason Box, an American professor in glaciology at the Geological Survey of Denmark and Greenland, wrote in his blog in July 2014 that "atmospheric methane release is a much bigger problem than atmospheric carbon dioxide release, since methane is ~20 times more powerful greenhouse gas."
You can share this story on social media: