Great balls of fire! Rare lightning caught on camera in Siberia (VIDEO)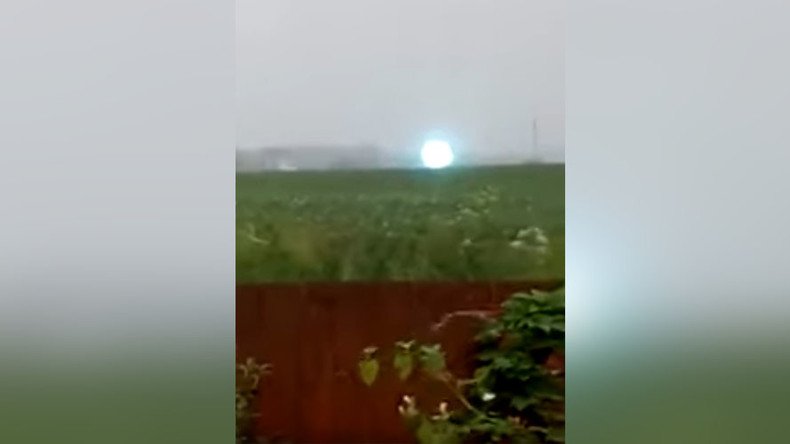 A unique video of a giant fireball moving across a Siberian field could be the latest proof that ball lightning is not an urban myth, but a real natural phenomenon.
Novosibirsk State Technical University graduate Roman Tregubov, who currently resides in Canada, posted this video he took in the countryside just outside Novosibirsk while visiting Russia in July.
"This is the first time I've seen a ball lightning!!!! I even managed to film it a little… Awesome," Roman emotionally captioned the video he shared on his Facebook page on July 18, 2016.
"Anyway I was shocked to see such a big and strong fireball... And whole process from his birth to death... Sounds... Visual... Feelings…[sic]," Tregubov continued.
He later made the video public and the sighting of the rare phenomenon was quickly shared with a much wider audience, making it into various Russian media outlets.
Up to the 1960s ball lightning was considered an urban myth and due to inconsistencies and to the lack of reliable data, the true nature of the phenomenon remains unknown.
These fireballs can dramatically vary in size from as little as a pea to several meters in diameter. This particular sighting is supposedly a large one.
READ MORE:Over 30 injured as raging thunderstorms sweep across Russia (PHOTOS, VIDEOS)
Aleskandr Tyutin, from the Physics Department of the Novosibirsk State University, told NGS news website that he believes what we see in the video could indeed be a ball lightning.
"Judging by how it changes color, form and by how it moves with the wind - it actually most probably is ball lightning. I can't imagine another phenomenon with such glowing effect," he said.
He added that although Tregubov was filming from a safe distance, it's best not to get closer to these balls of fire, but that the worst thin someone can do is to run away.
"If you start running from ball lightning, it will start following you in the air flow you create making it nearly impossible to escape. It's best to stand still," Tyutin concluded.
You can share this story on social media: