Tiger strikes again at Beijing park where woman was mauled to death (VIDEO)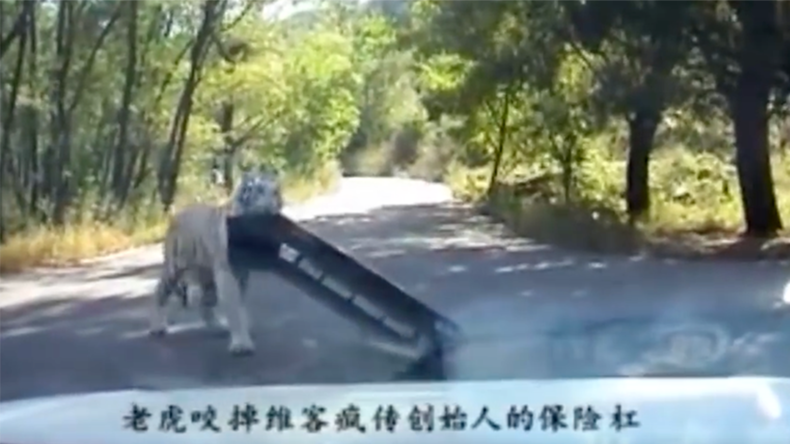 A tiger attacked a car with passengers inside at Beijing's Badaling Wildlife World, the same park where another tiger mauled a woman to death last month.
The video, posted by Chinese news outlet People's Daily, shows a tiger staring through the windscreen at the car's occupants. Not content to leave empty-handed, the tiger rips the bumper from the car with its mouth.
The animal then backs away into the trees, where it can be seen playing with its new toy.
With reckless abandon for their own safety, the car's occupants later retrieved the bumper before proudly showing off the damage.
Badaling Wildlife World was in the news last month after a woman was mauled to death by a tiger. Dramatic footage showed the moment one occupant exited a car while driving through the park's tiger enclosure and was quickly taken by one of the felines. Another occupant attempted to retrieve her but died in her efforts.
READ MORE: Tiger mauls woman to death at Chinese wildlife park (VIDEO)
Visitors to the popular park are advised not to exit their car as they drive through the Siberian tiger enclosure. Another visitor to the park was killed in 2009 when he climbed into an enclosure containing tigers.
It's not just visitors that have died at the park – in 2009 a park ranger was killed by a tiger after he reportedly got out of his jeep to relieve himself.