Tiger mauls woman to death at Chinese wildlife park (VIDEO)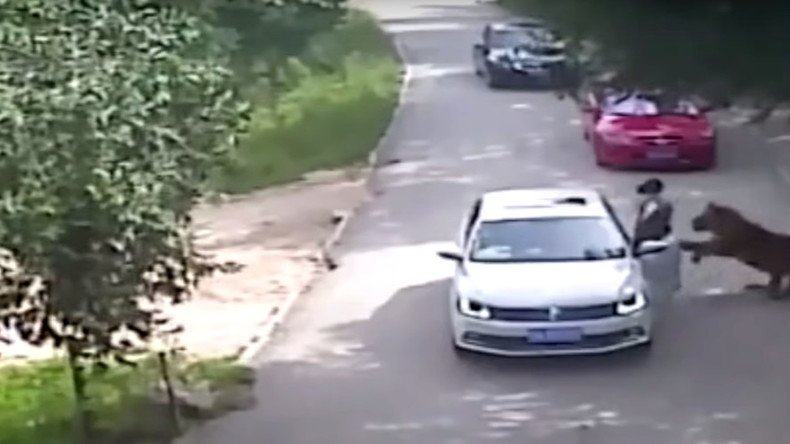 Dramatic CCTV footage has been released showing the moment a woman got out of her car at a Chinese wildlife park, only to be dragged away by a tiger.
The incident happened on Saturday afternoon at Beijing Badaling Safari World, which is located at one of the most popular sections of the Great Wall.
Visitors are allowed to drive through the Siberian tiger enclosure at the safari park to view the big cats up close, but are warned to stay inside the vehicle.
However, a group driving through the park Saturday apparently ignored this safety advice, leading to one woman being mauled to death and a second being seriously injured.
It's understood the car was carrying a family of four when an argument broke out between two of the occupants. As can be seen in CCTV footage, when one of the women exits the vehicle, a tiger quickly pounces on her and drags her away.
It wasn't this woman who was killed, however, although she was left with serious injuries, according to Shanghai Daily.
A second woman who stepped out of the car to help fend off the attack was targeted by another tiger. Although the park's rescue staff rushed to the scene, this woman was killed.
The injured woman was taken to hospital and the park was shut down while an investigation into the incident was launched.
This isn't the first such tiger attack at the park. Two years ago a Bengal tiger mauled a park ranger to death after he reportedly got out of his jeep to relieve himself.
Tragedy also struck in 2009 when a man climbed the three-meter-high fence into the enclosure, at which point he was killed by a Siberian tiger.
READ MORE: Playtime gets serious: Video of lion cub attacking child in Russia prompts police probe
You can share this story on social media: