Swedish city sued after firing Muslim man for refusing to shake hands with women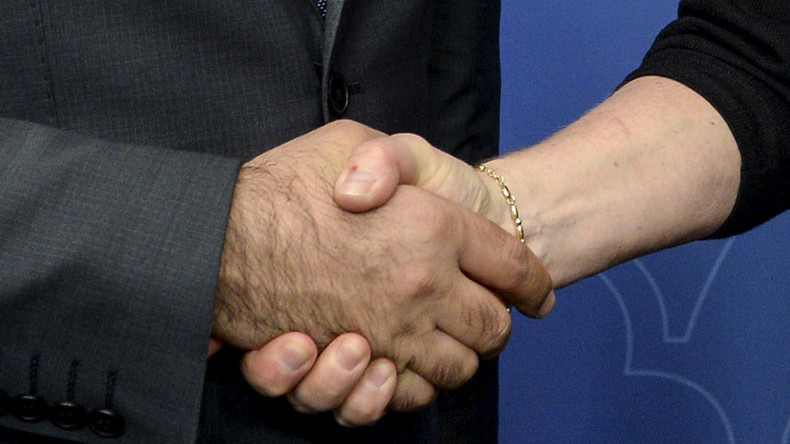 A Muslim man in Sweden is suing the state after he was fired from his job for not shaking hands with women, an action he says goes against his religious beliefs.
The man, who hasn't been named, worked for Helsingborg municipality in southern Sweden and refused to shake hands with his female colleagues, instead holding his hand to his heart when greeting them.
READ MORE: 'I'm not racist': Swedish bus driver explains attack on Syrian refugee, gives background to incident
Some fellow workers complained to bosses, however, and the man was let go, with his manager telling him his actions breached the equality policy.
"We are in favor of diversity. People can believe what they like, but that doesn't mean that they can discriminate," Liberal Councilor Maria Winberg told the Local. "We will stand up for values like equality."

"His female colleagues felt they were being discriminated against," said Winberg, who is also chairperson of the city council's Human Resources committee. "You can believe what you like, but you can't behave how you like in the workplace."

The man, however, hasn't seen it the same way, telling Swedish broadcaster SVT that he does "not understand why anyone would take offense" at the way in which he greets women."

"I'm a practicing, religious Muslim and want to follow my religion," the man explained. "And it's not just men who do not shake hands with women, there are also women who do not want to shake hands with men."
The man has now brought a lawsuit against Helsingborg over his dismissal and is being represented by a group known as 'Malmö mot Diskriminering' (Malmö Against Discrimination), a decision which actually been welcomed by Winberg.
"This kind of situation will become more common, and it's good that the case is being tried," Winberg said.