'I'm not racist': Swedish bus driver explains attack on Syrian refugee, gives background to incident
Published time: 22 Jul, 2016 15:56
Edited time: 22 Jul, 2016 16:58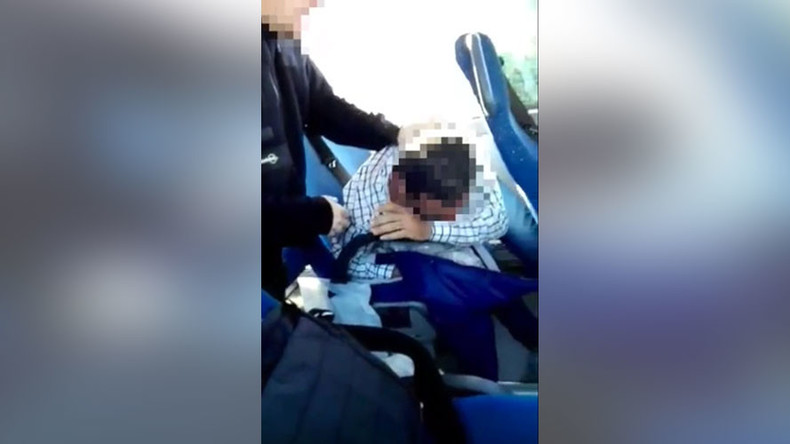 A Swedish bus driver who assaulted a Syrian refugee while shouting "damn swine" has told a local paper that migrants are "nice people" and there is "a story behind" the altercation.
"Of course you should not act the way it looks like I acted in the video. But there is a story before this that has not been told," the bus driver told local newspaper Ostra Smaland on Friday.
On Thursday camera footage emerged showing the driver aggressively assaulting a Syrian asylum seeker, identified in local media as "Muhammed."
"I hate you damn swine," the driver shouted, kicking the man in the head and repeatedly slapping him.
The violent incident took place on the island of Öland, off Sweden's east coast, where a refugee center is located.
In an interview with The Local, Muhammed said he wanted to board a bus on Tuesday morning, but the driver closed the door in his face. He said he tried to take a picture of the driver, because it was not the first time such an incident had taken place, and he wanted to report it.
The driver then tried to take a picture of Muhammed, but he covered his face. A heated conversation between the driver and Muhammed eventually resulted in physical abuse.
In the interview with the local paper the driver denied he was racist or that the statements made during the altercation were directed towards the refugee community.
"Most of the asylum seekers on Öland are very nice people," said the bus driver.
"But there have been problems with some of them. They never stand at the stops, but demand that you should stop wherever they are. They get off for a smoke or run to the store when you pick up other passengers and demand that you should wait. Some have not paid."
"It's of course stupid. I'm definitely not a racist, many of my friends are from other countries.
"I have to accept the consequences. But saying that what happened was completely unprovoked is simply not true," he added.
A spokesperson from the bus company said the driver had been suspended and that a domestic investigation was underway.
The driver later complained he had also been injured in the incident. He ended up with an arm fracture which forced him to take sick leave until late August.
A similar incident occurred on the Italian island of Sicily this May when a migrant punched a bus driver in the face after being denied a free ride.
A fight then broke out between the two men, resulting in the asylum seeker being severely beaten up.
The number of violent acts against migrants increased after Sweden, which has a population of 10 million, took in over 200,000 asylum seekers.
In March, the anti-migrant vigilante group 'Soldiers of Odin,' which gained popularity in Finland, Estonia and Norway, started its patrols in Sweden.