Ultimate car crash survivor: Freaky silicone 'human' designed to survive smashes (VIDEO)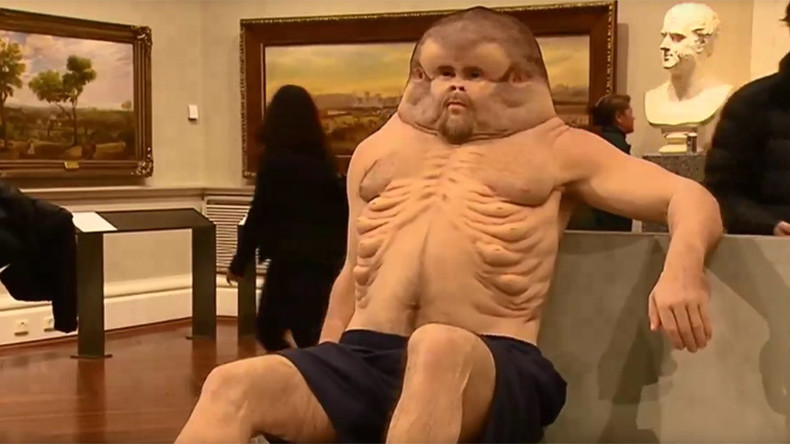 An Australian sculptor has designed the perfect 'human' specimen to survive a high-speed car crash - complete with a giant head, tiny ears, a concave face, 'air bags' between the ribs, no neck and super-flexible knees.
The silicone and fiberglass creation named 'Graham' is hardly a contender for Australia's Next Top Model, but he is indestructible when the going gets tough.
The sculpture is a key part of Victoria's road safety campaign and is the culmination of extensive collaboration between Melbourne artist Patricia Piccinini, trauma surgeon Christian Kenfield and road safety expert David Logan.
'Graham' possesses multiple nipples across an enlarged chest, which act as airbags to protect his heart and lungs. His extra thick skull guards against brain injury in a car accident while his lack of neck means he can't suffer whiplash.
He also boasts thicker and more robust skin to avoid having his flesh sliced open in a nasty collision. His freakishly large feet are a bit disturbing, it must be said.
Piccinini clearly took the project very seriously.
"I really listened and internalized the science of it and then I approached it in a creative way, on an emotional level," she said, ABC reports.
"The eyes are where the work is, it's where the viewer can really connect with him and empathise."
Kenfield said the project took on the difficult task of attempting to redesign the human body "in a way that would afford more protection," against the dangers posed at even relatively low speeds of 25-35kph.
No everybody was thrilled with the initiative, however, with some Facebook users accusing the Transport Accident Commission of wasting public money on the bizarre-looking character.
If you're planning to visit Melbourne soon you can see Graham in the 'flesh' at the State Library of Victoria until August 8