Wheelchair speedster: Mobility scooter whizzes between cars on busy Spanish street (VIDEO)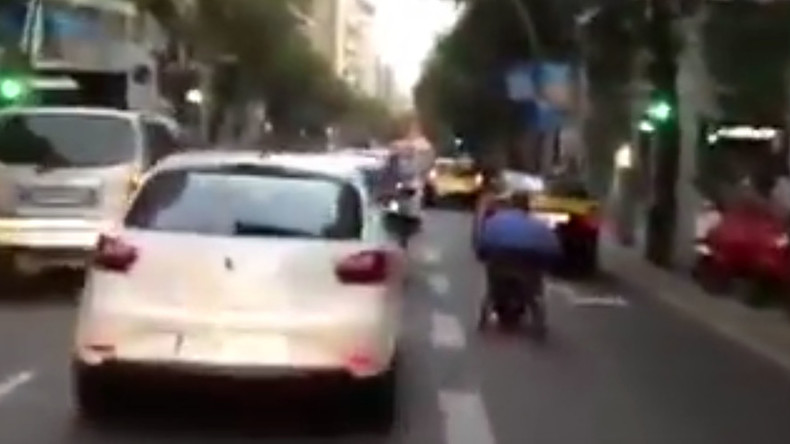 A video of a man overtaking cars while speeding down a busy Barcelona street on his wheelchair has gone viral.
The disabled man showed off his Formula 1 skills as he used the bus lane to weave in and out of traffic in the city center, leaving regular vehicles trailing in his wake.
His high-speed antics were caught on camera by a fascinated motorcycle passenger who uploaded the footage online, inadvertently making the unknown speedster a viral sensation and catching the attention of local police.
The Catalan cops were (unsurprisingly) unimpressed by the man's high speed and warned drivers of disability scooters to obey the rules of the road.
READ MORE: Man caught slapping wheelchair-bound woman on live TV arrested
"We are aware of this incident but unfortunately there were no police officers or traffic police there at the time to tell the person to slow down," a spokesman for Los Mossos d'Esquadra, the region's police force, told the Spanish branch of The Local on Tuesday.
"It is definitely illegal to ride a wheelchair in such a dangerous way, putting the safety of other road users, as well as yourself, at risk," they added.
It is recommended that disability scooters should use the road only when there is no safe sidewalk on which to travel. Most can reach maximum speeds of around 8kph (5mph) but some can reach around 24kph.
Either way Spanish F1 ace Fernando Alonso looks like he has some serious domestic competition.