Turkish cop pulls coup tank soldier to safety from angry crowds (VIDEO)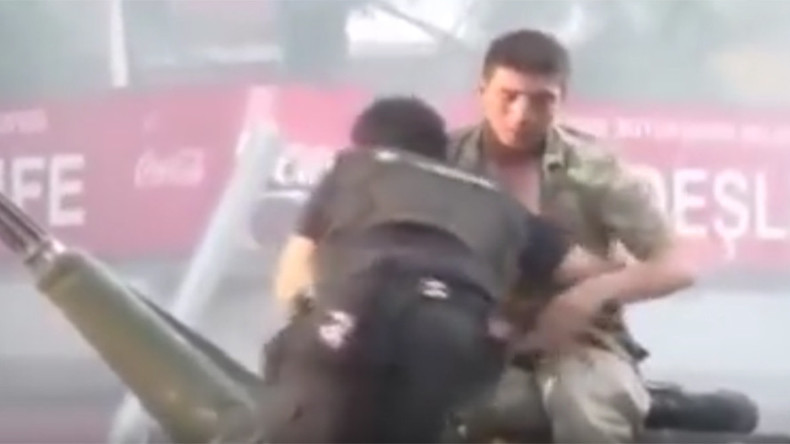 In the midst of Turkey's attempted coup, one police officer braved the wrath of angry citizens to defend a pro-coup soldier during the overnight violence that killed over 260 people.
Video footage from the aftermath of Friday night's clashes shows a police officer coming to the rescue of a soldier who was stuck in a tank and surrounded by an angry crowd.
READ MORE: Over 2,800 arrested, 265 killed, 1,440 injured in Turkish coup attempt
It is not clear from the video what happened in the moments leading up to the confrontation. In the footage, a man attempts to drag the soldier out of the tank as people throw debris at him, but the soldier manages to resist.
After delivering a few kicks to the soldier's head, the man leaves him alone as a cloud of tear gas engulfs the tank.
The soldier, who appears dazed, while coughing and struggling to escape the smoke, puts his hands in the air as a sign of surrender.
READ MORE: Dramatic Turkey footage reveals horrifying violence of coup struggle (GRAPHIC VIDEO, IMAGES)
A police officer wearing a gas mask then comes over to the tank and shouts at the crowd. He pulls the man out of the tank, embraces him and carries him to apparent safety.
The attempted coup has reportedly been quashed following overnight clashes between forces loyal to the government and those supporting a rebel faction of the army.
At least 265 people have been killed, and 2,839 members of the army have been detained.