Dramatic Turkey footage reveals horrifying violence of coup struggle (GRAPHIC VIDEO, IMAGES)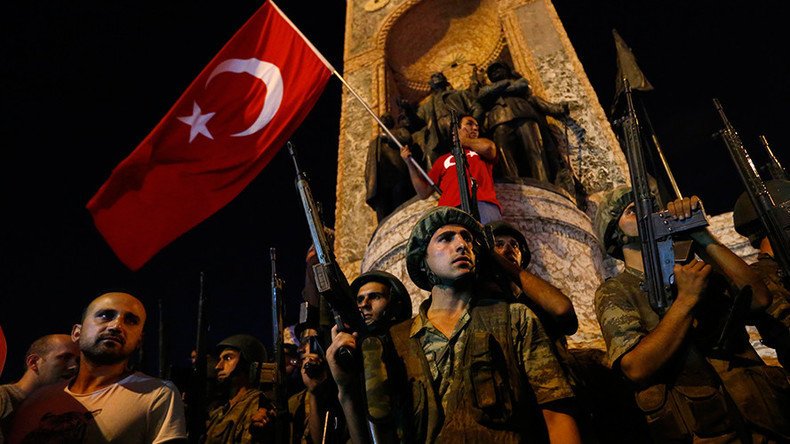 Graphic images and videos emerging from Turkey after a night of unrest highlight the extremity of violence witnessed during the attempted overnight military coup that has left 265 people dead so far.
READ MORE: Over 2,800 arrested, 265 killed, 1,440 injured in Turkish coup attempt
The unrest began when news of the coup and a curfew prompted supporters of President Recep Tayyip Erdogan to take to the streets. Tanks attempted to block key streets in Ankara and Istanbul, including the latter's Bosphorus Bridge connecting Europe to Asia.
[WARNING: The following videos and photographs contain graphic images]
Images and video show protesters attempting to block the tanks, which had come to a standstill. Turkish flags were hoisted onto some of the tanks.
Long queues were reported at the country's ATMs, as people rushed to withdraw money. The value of the Turkish lira dropped five percent against the US dollar when news of the coup attempt was reported.
The unrest grew as protesters continued to block military vehicles and shots were fired by Erdogan's opponents. One image shows a dead protester draped in a Turkish flag.
Forces loyal to Erdogan fired on tanks involved in the coup from helicopters.
Graphic video shows the moment military vehicles driven by coup participants sped through protesters, leaving a trail of human destruction in their wake. The remains of several people who were struck by a tank can be seen.
As the coup continued into the morning, there were reports that an F-16 had dropped two bombs on the Presidential Palace in Ankara and that an explosion had taken place at the Parliament building.
As news that the coup had failed spread, crowds were seen celebrating in Istanbul at the Bosphorus Bridge, which had been blocked throughout the night by forces opposing Erdogan.
Video also captured the moments soldiers involved in the coup surrendered.
You can share this story on social media: