Sea of blue behinds: 1000's of naked bodies gather in Hull for Tunick installation (PHOTOS, VIDEO)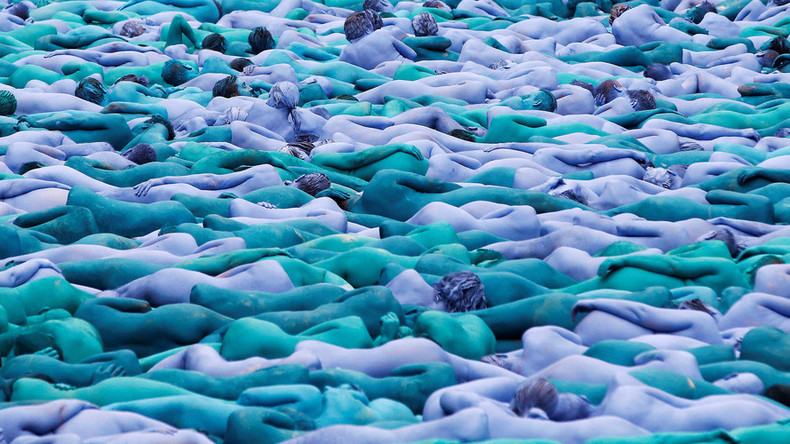 Thousands of people gathered in Hull and stripped naked to be painted blue as part of Spencer Tunick's latest art installation on Saturday.
'Sea of Hull' is a project to celebrate the city of Hull's relationship with the sea, commissioned by Ferens Art Gallery for the city's culture celebrations next year.
Turnick, an American photographer, is famous for his work featuring large crowds of naked models.
On Saturday, roads around the city were closed from midnight until 10am, to allow the blue bodies to pose in various locations.
In what could easily be mistaken for a scene from Avatar, a crowd of over 3,000 volunteers gathered at 3am to take part in the artist's work. Tunick described as one of the best turnouts he has seen.
The crowd consisted of adults of all ages and sizes. "I was very surprised to see so many older people take part and so many people who had problems walking – wheelchairs, crutches, leg braces," Turnick said. "It was like the end of a war in a way, but they were resilient and we had young and old and I am so thankful to them."
The models stripped off and painted each other in four varying shades of blue, to represent the colors of the sea, as well as the rising sea levels as a result of climate change. The finished work will be displayed in Hull in 2017.
The shoot took three hours, and afterwards, the streets of Hull were dotted with blue-faced participants - now fully clothed - making their way home.
Tunick has been creating public nude photography since the 90s and has created many installations featuring a mass of naked bodies since. His work aims to challenge preconceptions of nudity and public spaces, and he has been arrested a number of times for his work.
He plans to hold a naked installation of women holding mirrors at the Republican National Convention, to reflect "the knowledge and wisdom of progressive women." Although planned before Donald Trump became the presumptive Republican nominee, the installation will challenge the Republican Party's rhetoric.
While participants in Hull described the experience as liberating, some social media users were not impressed by the display of art, and the thousands of bare blue bottoms.