Pac-Man for scientists: Micro-organisms unleashed into videogame-style maze (VIDEO)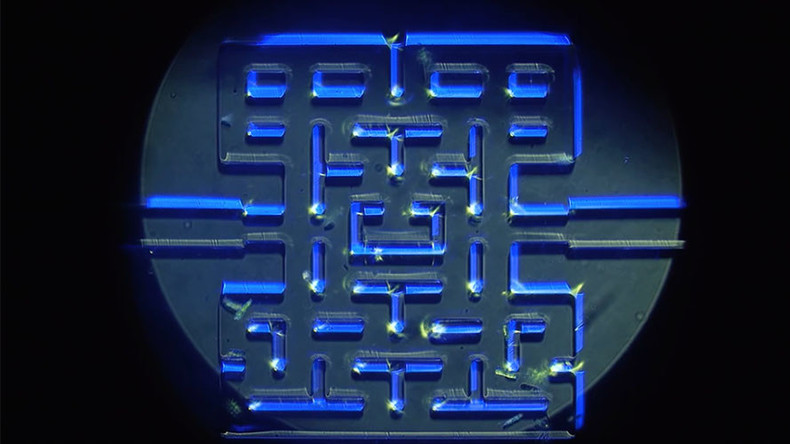 A group of Norwegian scientists have taken inspiration from '80s cult videogame Pac-Man to create an epic real life version of the computerized maze, involving predatory microorganisms hunting its weaker counterparts.
The team from the University College of Southeast Norway made an awesome simulation of the Japanese arcade classic to understand the dynamics between predator and prey microorganisms.
Single celled euglena and ciliates (the prey) were released into the nutrient laden fluid maze, which had a diameter of less than a millimeter, alongside the multi-celled rotifers (the predators) to analyze their interaction.
The unicellular organisms took on the role of Pac-Man while the rotifers acted as "Ghosts" who prey on Pac-Man.
The aim of the interactive research was to figure out how the single celled organisms respond when being hunted by the rotifers in a small three dimensional area.
Lead scientist on the project Professor Erik Andrew Johannessen explained this artificial environment was closer to the microorganisms' natural environment than the traditionally used petri dish, therefore enhancing the research.
Johannessen observed the rotifers were initially slow and hesitant to move in the maze. His team at the University's Department of Micro and Nanosystem Technology now hope to use digital tracking to monitor changes in species behavior when they are repeatedly exposed to the same environmental conditions. They are also looking at the possibility of integrating other games into future research.
Filmmaker Adam Bartley Lyslagt worked with the scientists to capture the micro version of the neon-colored bacterial Pac-Man on camera.
He believes the Pac-Man imitation helps bridge the gap between science and entertainment and opens up scientific research to a much wider audience.
"High-tech research is mostly too distant from the daily lives of most people, and therefore this practical application of research is very important to communicate to the public," Lyslagt said.
You can share this story on social media: