Disney World removes alligator references in wake of child death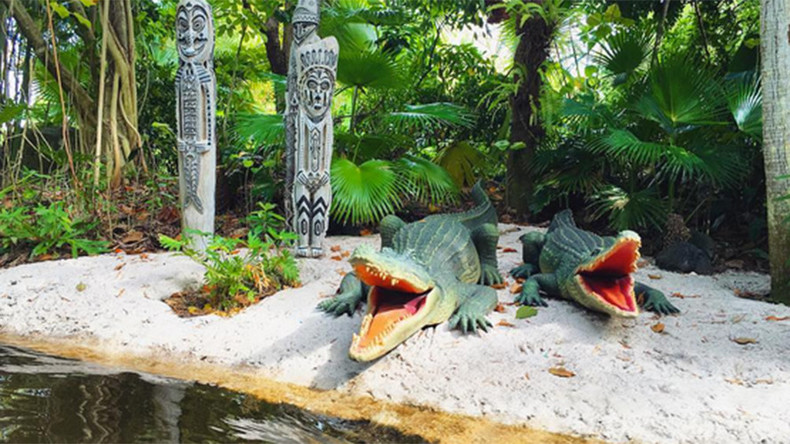 Jokes about child abduction by alligators and the Tic Toc Croc from Peter Pan are among a number of references removed by Disney World following the recent death of a child at the park.
"Watch your children, or the crocodiles will" is one scripted dark joke in place since 1962 that Jungle Cruise employees are no longer saying after two-year-old Lane Graves was snatched and killed by an alligator at the park earlier this month.
The ride brings visitors to the Orlando park along a replica of the Amazon River, where they encounter animatronic wildlife including crocodiles, according to the The Hollywood Reporter.
Jokes threatening tourists with being dumped into the crocodile pit have also been removed from 'Animal Kingdom.' Louis, the trumpet playing alligator from The Princess and the Frog, has also been cut from a live show at the park, the Miami Herald reported.
Jacquee Wahler, the resort's vice president, said in a statement that the park would be evaluating "processes and procedures for our entire property" and would be "reinforcing training with our cast for reporting sightings and interactions with wildlife and are expanding our communication to guests on this topic."
Two days after Lane Graves was killed by an alligator, the park installed temporary barriers and signs warning visitors of the presence of alligators.
Not sure if it was intentional or not, but Festival of Fantasy didn't have the crocodile float today... Take that for what you will

— DisneyConnects (@DisneyConnects) June 15, 2016
Not all references are gone at the park though, with fake and live alligators remaining at the Living with the Land attraction, where visitors travel on a slow moving boat through a giant greenhouse.
An employee at the park, who did not want to be identified, told the Miami Herald that staff at ESPN's 'Wide World of Sports' complex, where ponds hold live alligators, are now required to undertake additional wildlife training.
Since 2006, 240 alligators have been trapped on the 25,000-acer Walt Disney property.
The body of Lane Graves was recovered from the Seven Seas Lagoon on June 15, a day after he was dragged into the water by an alligator.
READ MORE: Body of 2-year-old snatched by alligator at Disney World recovered