Fmr Moscow official attacks woman blocking his car on PEDESTRIAN street (VIDEO)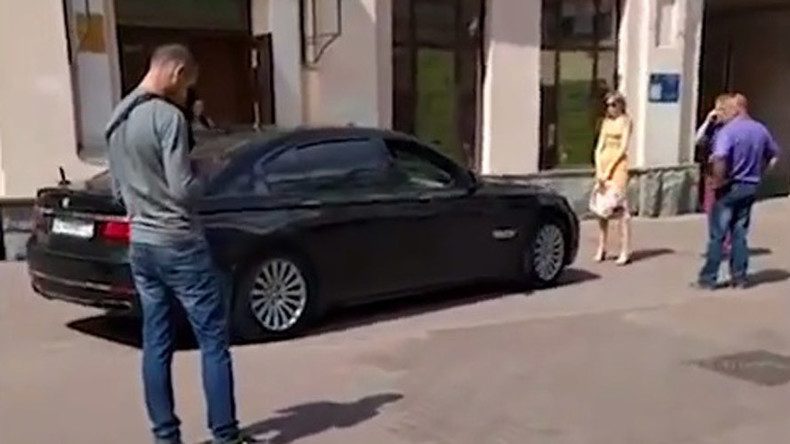 Police are looking into the incident that happened on a hot Sunday in one of Moscow's most popular streets – Old Arbat. A man in a BMW with vanity plates laid into a woman who tried to show him that driving in a pedestrian zone is just wrong.
The woman was filming the black car with prestige plates driving on the street full of walking people with her mobile phone, when a man emerged from the vehicle and attacked her, eyewitnesses said.
He hit her violently, an eyewitness said, adding that the attacker kicked the woman in the back with his foot, tried to pull her by her hair and also smashed her phone.
In the video filmed by a passerby, other men can be heard shouting "don't touch her, she's a woman," yet they don't interfere in the fight.
Two men in suits from the same car can also be seen involved in the incident, apparently trying to quell the attacker, who can be heard shouting that the car is his. Before the suited men managed to lead him to a passenger seat, the "owner" also tried to go after another man in the street.
READ MORE: 'Down with this mess': Moscow police chief says 'golden boys' due in court for GTA-like chase
The woman then stood in front of the BMW, blocking its way. The driver tried to escape in reverse. But while the woman was shouting: "Who are you? Why are you allowed to lay your hands on us? We are in our own country," more people blocked the car's way from the back.
Yet the driver then managed to move forward and drove off, forcing his way through more pedestrians on the street, a separate video showed.
Social media in Russia has been seething with rage after the incident was made public. Adding fuel to the fire, it became known that the attacker, Erast Mataev, is a former Moscow official, having served as an adviser to the city's deputy mayor.
He reportedly turned himself in to police, following public outrage online and in the media.