'Down with this mess': Moscow police chief says 'golden boys' due in court for GTA-like chase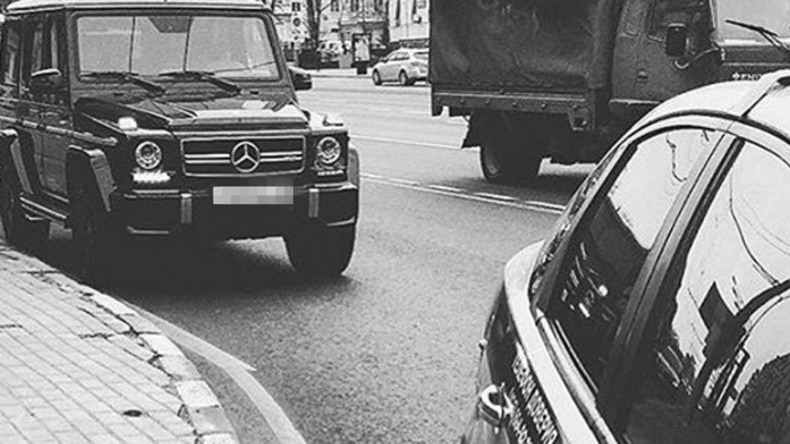 A group of Russian "golden boys" who raced with police through the streets of Moscow on their Gelandewagen will face criminal investigation for a grave violation of traffic rules, the Moscow police chief said in a harsh statement.
Twenty-year-old Ruslan Shamsuarov, already dubbed 'petrol boy' by the Russian media, was roaming the streets of downtown Moscow with a group of young friends in his showy Gelandewagen G63, when traffic police demanded that they pull over as they had been going way over the speed limit.
The youngsters refused to stop the car and sped up even more, provoking some six police squads, as they claim, to chase them through the city. As they broadcast the entire chase on Periscope, the footage has gone viral in Russian social media.
Once caught, while eventually trying to escape on foot, Shamsuarov proudly compared the "exciting" chase to those in the famous GTA video game, only "without helicopters and tanks."
"All of you have seen how much mess they did on Moscow streets, disrupting public safety and putting the residents' lives at risk," Anatoly Yakunin, chief of Moscow city police told his staff on Thursday. "[We will] examine the case within the scope of the [criminal legislation] and look if there have been signs of malicious hooliganism that needs to be prosecuted."
The cocky cat-and-mouse chase went viral across Russian social media, mostly due to the fact that the car's owner was the son of vice-president of Lukoil, Russia's second largest oil company, who got away with a minor fine once traffic police finally caught the racers.
YouTube commenters were angered by "yet another incident when 'gilded youth' think they're all-powerful," suggesting that Shamsuarov's father "should realize that the political damage done by his son exceeds that of some locksmith's boy, and only then will such outbursts cease to happen."
The Moscow police chief also slammed traffic police officers who let the youngsters go without adequate action, saying that "the police inaction leads to miserable consequences like this."
"We have to stop this golden boys' mess forever, they don't really care about the city residents and [their] safety. They believe everyone and everything could be bought for money, but they're wrong."
Earlier in the day it was revealed that the Gelandewagen's driver, Abduvakhob Madjidov, who had been previously banned from driving, had been arrested for 15 days and sentenced to 200 hours of public works labor. Meanwhile the car's owner has "apologized" for the dangerous driving of his friend and promised "it will never happen again."
If the new criminal charges of hooliganism are now slapped on the driver on top of the administrative punishment, he might face up to five years in prison. At the same time, if the investigation concludes that the act of hooliganism was perpetrated in collusion, the entire group could potentially face up to eight years jail time under the Russian criminal code.