Russian 'Rat Pack' play cat-and-mouse with police, broadcast chase on Periscope (VIDEO)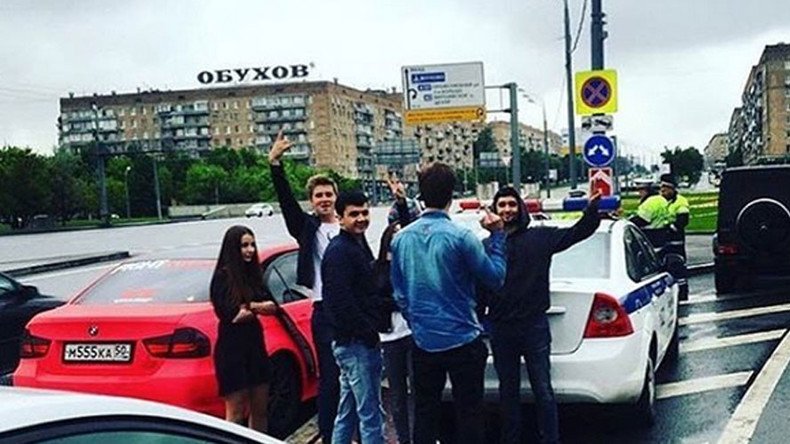 A group of Russian 'golden boys' driving 'Gelandewagen' raced with police through the streets of Moscow, broadcasting the chase on Periscope. The owner of the car is reportedly the son of the vice-president of Russia's second largest oil company 'Lukoil'.
Twenty-year-old Ruslan Shamsuarov, already dubbed 'petrol boy' by the Russian media, was roaming the streets of Moscow with a group of young friends in his showy Gelandewagen G63, when police demanded that they pull over as they had been going way over the speed limit.
Refusing to stop the car, the youngsters sped up even more, provoking some six police squads, as they claim, to chase them through the city.
While escaping their pursuers, the youths violated a dozen more traffic rules, including crossing the double line mark and driving in pedestrian zones, all the while commenting on the chase and cracking jokes about pursuing officers.
The youths managed to capture the attention of the online community.
YouTube commenters were angered by "yet another incident when 'gilded youth' think they're all-powerful," suggesting that Shamsuarov's father "should realize that the political damage done by his son exceeds that of some locksmith's boy, and only then will such outbursts cease to happen." Someone mused the youth had too much "spare petrol, being the son of Lukoil official, so why not take a ride…" Others jokingly asked whether Ruslan's "daddy will be pissed."
At the end of the 10-minute chase, the youngsters left the car on the lawn in one of the residential districts in Moscow's south-east and stopped broadcasting. They then tried to escape on foot, but were apprehended in a nearby park and arrested.
Even then, the self-styled racers did not draw in their horns: While the officers checked their IDs and paperwork, they broadcast another feed, proudly describing the events of the chase and comparing it to the famous GTA video game.
The driver, who turned out to be one of the owner's friends, was taken in for health screening, Russia's Life News reported.
The consequences of the eventful 10 minutes were not as significant as might be expected. The 'Gelandewagen' owner got by with but a small fine of some 5 thousand rubles ($75 US). The sum quickly became yet another source of jokes for the youngsters in their second feed.
After the incident, Shamsuarov, known to the web as 'borzrus,' deleted his accounts from all social media networks.
Russian news outlets, however, managed to screen Shamsuarov's accounts prior to their removal, and report on numerous photos of other arrests posted by 'borzrus', as well as unpaid fines amounting to some $4,500 US.
Asked for a comment by Russian media outlets, the 'Lukoil' press service commented on the incident, stating they "could not confirm, nor deny it," REN-TV reported.
As for Shamsuarov-junior, he did proffer an apology, after a dozen Russian news outlets reported the incident. In an interview with Life News he claimed that "it will never happen again" and apologized to "anyone who could have witnessed these events." He also defended his friend the driver, saying that he kept going because "the boys teased him" and "he did not want to appear weak."
You can share this story on social media: