Girl with severe disability becomes beauty blogging YouTube star
Twenty-year-old Lili Lo from Kazan in Russia's republic of Tatarstan, suffers from McCune-Albright syndrome. With over a 100,000 subscribers to her video blog, she inspires viewers with positive messages and showing off her skills as a make-up artist.
"Hello everyone! I'm Lilya from Russia, I want to say this to avoid unnecessary questions, I am a person with disabilities, but this doesn't mean I can't do what I love, I can't use make-up or film videos!" Lili Lo wrote on her YouTube page.
Read more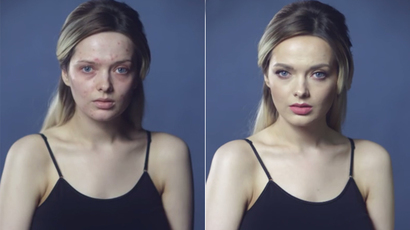 McCune-Albright syndrome affects the bones, skin, and several hormone-producing tissues often resulting in uneven, asymmetric growth of the face. In addition to bone abnormalities, affected individuals usually have light brown patches of skin called café-au-lait spots.
"I'm saying this so you could understand that I'm just like you, it's just that I have more desire than ability… I hope you accept me and like me, that you support me and won't be too hard on me :)) Thank you!" Lili's inspirational and honest message goes on.
Lili decided to channel her passion for make-up and started her video blog two years ago. Fame came hot on its heels, when someone reposted one of her videos on the VKontakte social network with an offensive comment resulting in more people visiting Lili's YouTube page.
Since then her posts on YouTube have been watched about 6,470,000 times and although hateful comments still slip in, there's a much stronger presence of supporting and grateful words from online users.
READ MORE:Thai skin-whitening ad prompts social media backlash for claiming you need to be 'white to win'