'Strawberry' solstice a pagan delight on a moonlit night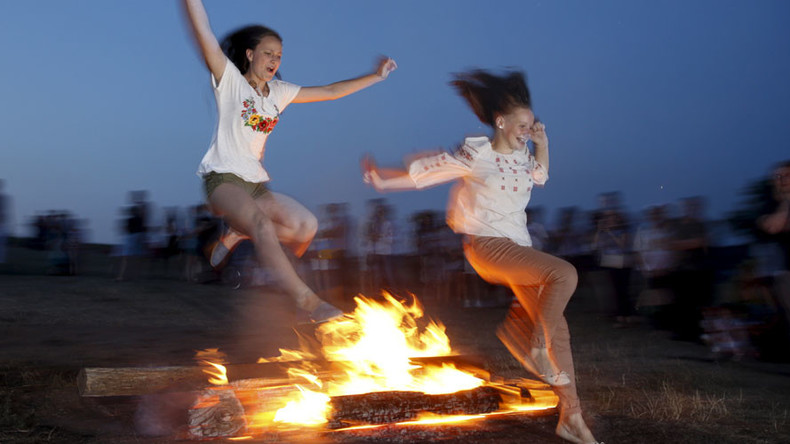 Pagans and astronomers are headed for the hills for the "strawberry moon," a rare appearance of earth's only natural satellite in full glory during the summer solstice, for what promises to be a glorious sky show.
Unfortunately, the lunar orb won't turn bright red as its nickname suggests. Instead it comes from the Algonquin tribe who believed it signaled the beginning of strawberry picking season.
Thousands of people around the world will celebrate at ancient stone circles and other structures built for the solstice by their pagan ancestors.
This year's solstice can be celebrated from anywhere, but Stonehenge always attracts the most color on the day with hundreds expected Monday night.
Druids looking to pay tribute to the sun at the iconic site are faced - for the first time ever - with a £15 ($22) so-called 'pay to pray' parking fee.
Unfortunately for those who do manage to get to Stonehenge, the weather forecast is not looking favorable, with some rain and cloud to hide the sun from its worshippers.
Regardless of the weather, the atmosphere at the site will be worth the trip, as pagans arguably put on the best parties.
READ MORE: Druids and pagans gather at Stonehenge for solstice (PHOTOS, VIDEO)
Across the Irish Sea, pagans will celebrate at temples older than Stonehenge including the Hill of Tara in county Meath, once the ancient seat of power on the island.
The site has been attended by pagans for thousands of years and this year, the celebrations are overlooked by local man JP Fay, who dons a cloak and staff when making offerings of food to his ancestors.
The nearby Sliabh na Cailleach (Hill of the Hags and Witches) will also host a drum session and procession at a "5,000-year-old megalithic sacred site."
Pagan monuments can be found around the globe, often accompanied by bonfires.
In Russia, Ukraine, Belarus and Poland, the solstice is celebrated on Kupala Night on June 23, with Slavic rituals including jumping through bonfires in a test of bravery and faith.
In true pagan fashion, nude bathing can also be enjoyed - all in an effort to cleanse your sins.
In Spain, fire is also embraced during the celebration where revelers jump through flames to ward off witches in honor of Saint John the Baptist. That also takes place on June 23.
Bonfires will dot Alpine mountains to celebrate the solstice, with music and festivals to entertain revelers.