Orlando gun giveaway locked & loaded for GOP fundraiser despite outrage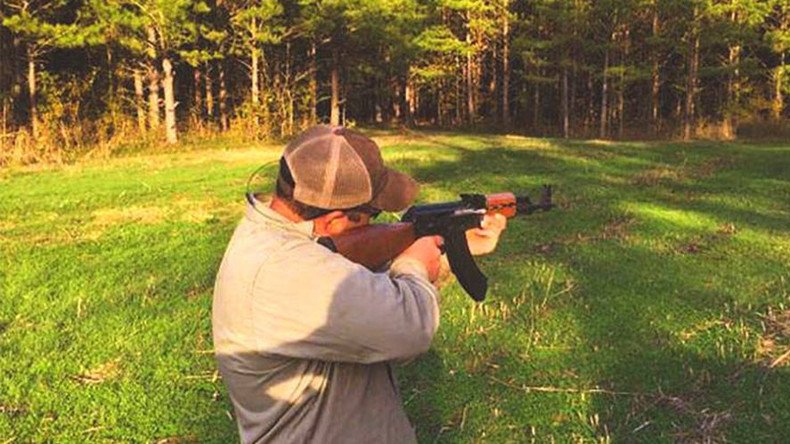 A Republican state legislator in Tennessee is defending his decision to give away two AR-15 assault rifles, the same model used in America's worst mass shooting by a lone gunman, despite outrage over the promotion.
Prior to the Orlando massacre early Sunday morning, state representative Andy Holt had organized the "HogFest & Turkey Shoot!" fundraising event, with plans to give away one of the semi-automatic rifles as a "door prize."
when i say i love Tennessee but it always doesn't love me back, i'm talking about Rep Andy Holt who intends to give away 2 AR15s

— lauren shuler ♀ (@_laurenshuler) June 14, 2016
Instead of canceling in honor of the victims, he doubled down and threw a second AR-15 into the prize box.
Attendees "get a chance to meet the candidates running for Congress in the 8th District," according to Holt's website, including state senators Bryan Kelsey and David Kustoff, Shelby County Mayor Mark Luttrell, "Christian Servant" Brad Greer, Shelby County Register of Deeds Tom Leatherwood, and local media mogul George Flinn.
There will be a "petting zoo for the kids" andlots of people shooting guns at defenseless birds during a $25-per-person Turkey Shoot, which is BYOA&R (Bring Your Own Ammo and Rifle).
The same model rifle being given away was also used in the San Bernardino attack last year, the 2012 Colorado movie theater shooting in 2012, and the Sandy Hook massacre in Connecticut.
"It has nothing to do with the style of weapon. It has everything to do with who's behind the weapon," Holt told The Tennessean.
He also added a dash of racism by commenting that the only thing wrong with the AR-15 is that "it's black and it looks real scary."
Idiot Tennessee Legislator of the Week, #AndyHolt, says "the only thing wrong with the AR-15 is that it's black and it looks real scary."

— Preston MacDougall (@ChemicalEyeGuy) June 14, 2016
In a series of Facebook posts on Monday, Holt spoke of the importance of the second amendment right to keep and bear arms.
"I'm furious that I get phone calls from the media asking me if I'm still going to give away an AR-15 at our HogFest, rather than asking me how many extra firearms I'll be handing out to ensure people can protect themselves," Holt wrote on the social network.
"After all, it was a bullet that stopped the terrorist. Amazing how so many seem to miss that fact," he added.
In a follow-up post, Holt then reiterated his point, again airing his anger over suggestions of increased gun control.
"I'm sick and tired of the media and liberal politicians attacking our right to keep and bear arms," he said. "I'll do everything I can to ensure the 2nd Amendment is protected and people are equipped to exercise their innate right to self-defense."
Holt did compromise slightly when he agreed to run a background check on the lucky winners of the rifles.
The state representative, who declined to run for Congress earlier this year after extensive "prayer," said Monday that he and his legislative assistant have received death threats from "those peace-loving liberals" over his decision to give away the guns.
However, he has not presented any evidence of the political affiliation of those he claims threatened him.
Holt has sponsored several gun bills in the past, including a piece of legislation allowing full-time employees of Tennessee colleges and universities to carry weapons on campus.
He also backed a recent anti-transgender bathroom bill which called for all students in public education buildings to use bathrooms and locker rooms which matched their gender at birth, but it failed to pass.
After President Obama announced in January that he would use executive powers to restrict gun purchases, Holt wrote to the president telling him to "take your gun control and shove it."
You can share this story on social media: