Man attacks woman, forces her into car trunk at Chinese gas station as witnesses stand by (VIDEO)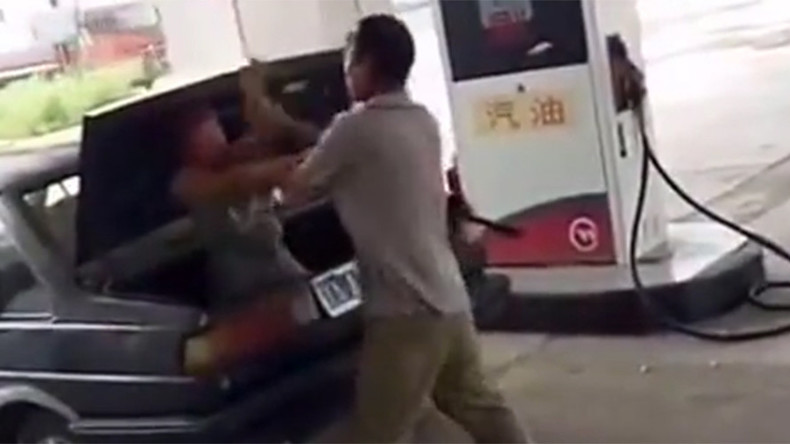 Shocking footage of a man attacking a woman and bundling her into the trunk of a car at a gas station in northern China has gone viral.
The video shows the man hitting the woman repeatedly while pushing her into the trunk of the car and slamming it shut at a gas station in Huanghua, Hebei province.
Witnesses can be seen shouting at the man but no-one physically intervenes or prevents him from driving off with her locked inside.
The man believed the woman had cheated on him, according to The Beijing Times on Weibo.
The woman was later located in Cangzhou by police, the vice director and propaganda director from the public security bureau of Hebei province announced on Weibo.
She reportedly did not suffer any injuries in the shocking attack and told police the man involved was her husband and she did not wish to press charges. Instead, police said, she claimed she wanted to repair their relationship.
The video sparked outrage online with Chinese social media users condemning those who recorded the video and witnessed the abuse, without intervening.
Some users suggested the bystanders should be fined, while others questioned why the police couldn't take the matter more seriously, given the footage.
While some defended police inaction by suggesting cops are powerless to act if the woman does not press charges, others pointed out that the police would take very different action if this were a drugs case rather than domestic violence.
Earlier this year China introduced legislation to make domestic abuse a crime and to encourage victims to report their abusers and take them to court.
The law came into effect a day after 24-year-old Li Hongxia was murdered by her husband in a hospital bed while recovering from a miscarriage.
The All-China Women's Federation estimates that nearly 25 percent of married women in China have experienced domestic violence. A survey they carried out last year indicated that nearly a third of families were affected by domestic violence.
Meanwhile, domestic abuse is cited as the reason for a quarter of divorces in China, according to CCTV News.