Anaconda bridge: NATO troops build floating rig over Polish river in war games (VIDEO)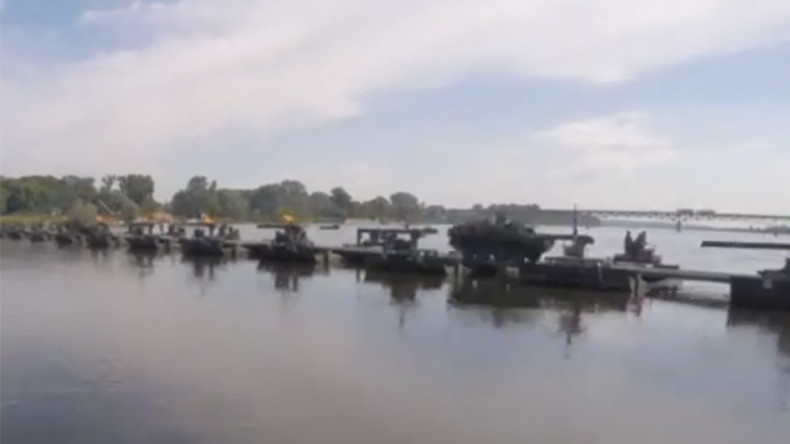 British and German engineering units speedily constructed a temporary pontoon bridge in Poland as part of the Anaconda 2016 Nato military exercises aimed at deterring "Russian assertiveness".
More than 31,000 troops from 24 countries are taking part in the 10-day drills, which are the largest war games in eastern Europe since the Cold War.
The Anaconda 2016 exercises involve NATO nations such as the US, the UK, Germany, Canada, Spain, Sweden and Turkey.
READ MORE: Moscow calls NATO buildup in E. Europe 'unjustified' as largest drills since Cold War kick off
The bridge, made up of 30 army M3 amphibious rigs, stretched across the calm waters of Poland's Vistula river in the third such exercise since the training operation began on June 7.
US Army Europe, which heads the exercise, justified the massive war games by saying they are "to train, exercise and integrate Polish national command and force structures into an allied, joint, multinational environment."
Russian envoy to NATO Alexandr Grushko has called the war drills "absurd".
READ MORE: 'Absurd': Russian envoy to NATO ridicules allegations of plans to invade Poland
"During the NATO secretary general's recent visit to Poland, officials in this country [Poland] made statements suggesting that from now on Russia would know that any attack on Poland would mean an attack on NATO as a whole," Grushko said during an interview with Russia-24.
"This is completely absurd because they are discussing a non-existent problem. There are no plans for any attacks on Poland."
The troops will now travel to Lithuania for their next exercise on June 10 before the NATO summit begins in Warsaw on July 8.