'Absurd': Russian envoy to NATO ridicules allegations of plans to invade Poland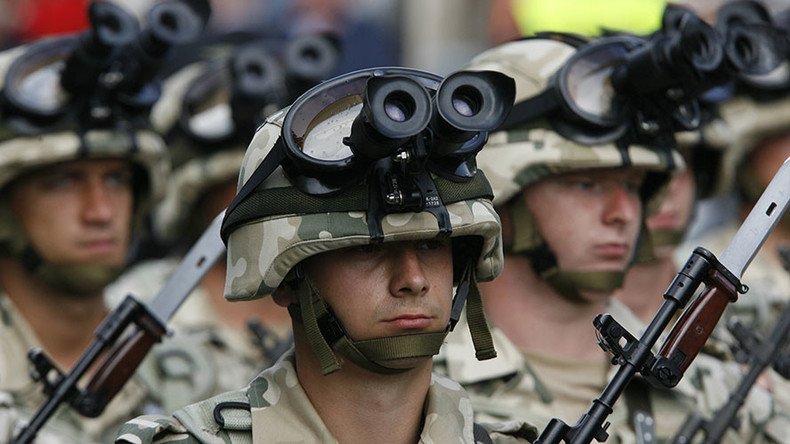 Russia has no plans whatsoever to attack Poland and any talk about such a scheme is both absurd and dangerous, Russian envoy to NATO Aleksandr Grushko has said.
"During the NATO secretary general's recent visit to Poland, officials in this country [Poland] made statements suggesting that from now on Russia would know that any attack on Poland would mean an attack on NATO as a whole. This is completely absurd because they are discussing a non-existent problem. There are no plans for any attacks on Poland," the diplomat said in an interview with TV channel Russia-24, adding that certain statements about NATO military exercises in the Baltics were "shockingly blatant."
In the same interview, Grushko emphasized that it was very dangerous for NATO to start carrying out plans based on these false presumptions. "Their policies dwell in surreal reality and the most dangerous thing is that now they start to implement these policies in the form of military planning and preparations on the territories adjacent to our borders."
READ MORE: NATO needs Russia as major foe to maintain bloc's relevance - Russia's envoy

The diplomat stated that the alleged Russian threat to NATO was nothing but a myth, invented in order to justify NATO's current policies and to bring additional unity to the alliance and the Western political bloc in general.
"All these weird games [and] false suggestions that NATO members have no own armies, they will end sooner or later because it is difficult to constantly live in the fog of an ideological campaign based on nothing," Grushko forecasted.
At the same time, the envoy assured reporters that recently-started NATO exercises in the Baltic region posed no threat to Russia. "What we see now in the Baltics is nothing but an attempt to push through the military build-up with the very same hostile policy that has been recently conducted by NATO. I would not say that this is any direct danger for the Russian Federation, but it is still obvious that such moves create serious risks, because we see a completely new military reality taking shape along our borders," Grushko said.
READ MORE: 'It can't go unanswered': Russia will respond to NATO buildup near its borders, senior diplomat says

"The developments on NATO's eastern borders will not be left without our military-technical and political response. As everyone knows, Russia can be very effective in securing its safety," he noted.
President Vladimir Putin's press secretary, Dmitry Peskov, also criticized NATO exercises in Europe as a move that does not contribute to security in the region.
"In any case, the war games… certainly do not contribute to the atmosphere of trust and safety on the continent," Peskov told reporters on Tuesday.
The Anaconda 2016 NATO military exercise began in Poland on June 6 with the practical part of the training starting on June 7. Over 31,000 servicemen from 24 nations will take part in the drill, making it the largest in Eastern Europe since the end of the Cold War. The scenario for the exercises is classified, but NATO commanders earlier claimed that the bloc intended to test its capacity against an enemy more capable and well-trained than the rebel groupings which the US and its allies have fought in Iraq and Afghanistan.
READ MORE: Moscow calls NATO buildup in E. Europe 'unjustified' as largest drills since Cold War kick off

You can share this story on social media: