Arachnids above: Army of spiders colonize treetops to escape deadly floods (PHOTOS, VIDEO)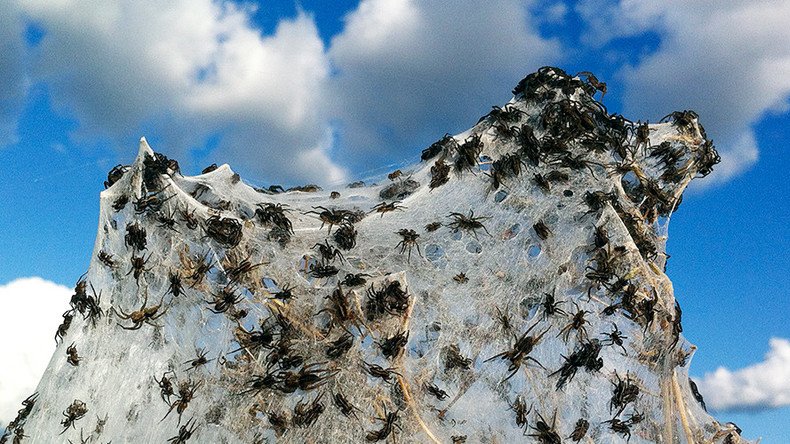 Severe floods in the Australian island of Tasmania are forcing thousands of spiders to run for cover, resulting in the astounding sight of trees laced with webs.
Recent extreme flooding on the island off Australia's south coast has led to tragedy, with at least three deaths as well as emergency evacuations from local homes. Police are searching for two missing residents.
The conditions have also led to a rare arachnid phenomenon: hundreds of trees being completely covered by spider webs in a process called 'ballooning'.
'Ballooning' happens when spiders, who normally live on or in the ground, need to climb to a higher vantage point to escape from harsh environmental conditions such as snow or flooding.
READ MORE: Not-so-itsy-bitsy spider found in shower becomes web sensation
While usually some tall grass would suffice, in extreme cases - like Tasmania's torrential flooding - a treetop is an ideal location. The spiders can cast lines of web above them and pull themselves to higher and safer positions.
Within a few hours, the wind captures the blanket of spiders and the phenomenon acts like a parachute to carry them off to a safer location. But until then, the result is a mesmerizing sea of trees coated in silk-like webbing.
The spiders pose "no danger to people. It's a spectacular natural history occurrence," according to Robb Bennett, a research associate in entomology at the Royal British Columbia Museum in Victoria, who spoke to National Geographic on the "relatively rare and random" phenomenon.
This strange arachnid behavior is not exclusive to the land Down Under, however.
READ MORE: Call your doctor immediately: Spider sports 99-million-year erection
Last year Texas experienced a similar reaction following some communal flooding, and in 2014 Pakistan also had their trees covered in spider webs after a heavy downpour. Arachnophobe's, you have been warned.
You can share this story on social media: