40 dead tiger cubs found in freezer at controversial Thai 'Tiger Temple' (GRAPHIC PHOTOS, VIDEO)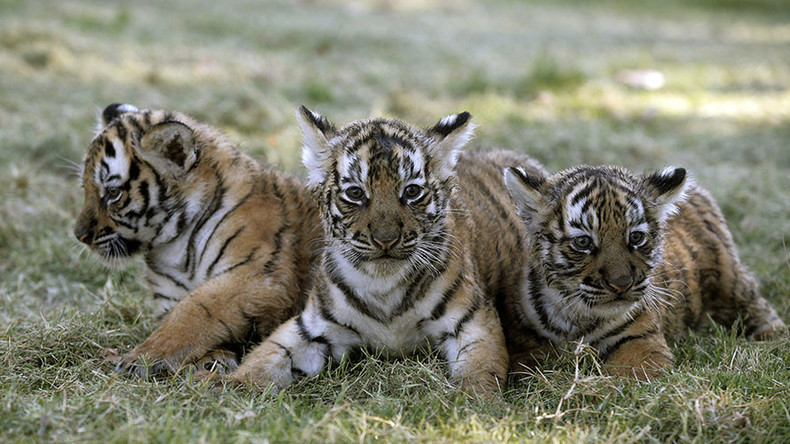 More than 40 dead tiger cubs were discovered by Thai authorities inside the controversial monk-run animal sanctuary and tourist attraction 'Tiger Temple'.
The gruesome discovery was made Wednesday morning in Kanchanaburi province and included baby tigers, a bull skull, deer horns, a dead bearcat and various animal intestines, reports Khaosod English.
The alarming finds came on day three of the removal and transfer of more than 100 of the facility's adult tigers to state-run shelters by Thai wildlife rangers. It's part of an effort to shut down 'Tiger Temple'.
The famed Buddhist monastery was drawing in the equivalent of US$3 million each year, according to National Geographic, by offering tourists the opportunity to interact with the endangered animals, which supposedly co-habited with people in harmony at the temple.
The facility offers a range of tours, allowing visitors to pose with and handle the tigers.
However, the temple has long been suspected of running an illegal wildlife trade operation. Former workers and animal welfare groups have alleged that tigers have been abused and exploited - accusations the monks vehemently denied.
The temple's management have reportedly blocked the Department of National Park's repeated efforts to remove tigers over recent years, only relenting when more than 1,000 officials showed up at the temple on Monday armed with a court order.
"We will find out who's responsible for the cubs," said Yanyong, head of Protected Area Regional Office 3, as quoted by Khaosod English.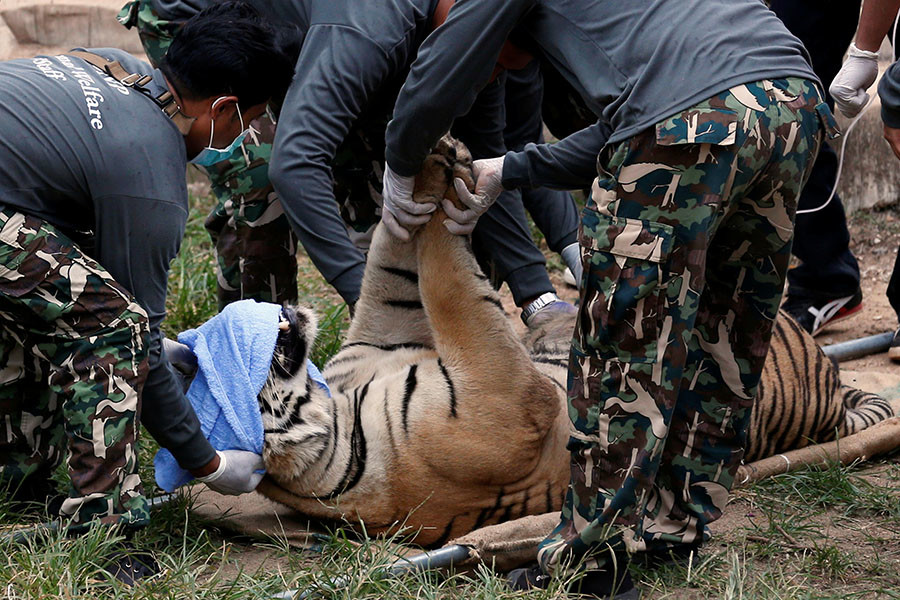 The illegal trade in Tiger parts is a serious problem in South-East Asia, where the animals are sold for their skin, meat, claws and bones to be used in a range of health products. However, it is not clear why the temple was holding the tiger carcasses.
Read more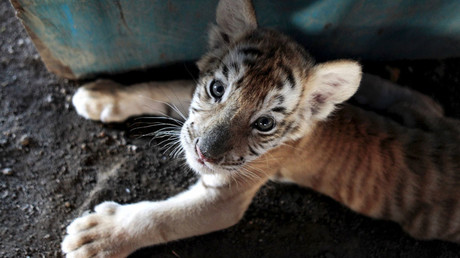 "They must be of some value for the temple to have kept them," the wildlife department's deputy director-general Adisorn Noochdumrong told the Bangkok Post. "But what that [value] may be is beyond me."
By law, dead tigers must be reported but wildlife officials said only one of the deceased big cats was actually declared to the Thai government. However, temple representatives said all of the cubs' births and deaths have been declared, insisting the carcasses were kept over the years as proof that they haven't been sold on the black market.
"We have declared all the deaths to the officials over years," said Supitpong Pakdjarung, a former police colonel who runs the temple's business operation to the New York Times. "They've known about these carcasses for a long time."
The temple has been charged with the illegal possession of wildlife carcasses - a charge which could result in up to four years in prison and a fine of over $1,100.
The temple had recently received permission to build and operate a zoo nearby, according to the NY Times.