NASA releases spellbinding details of Pluto's surface (PHOTO, VIDEO)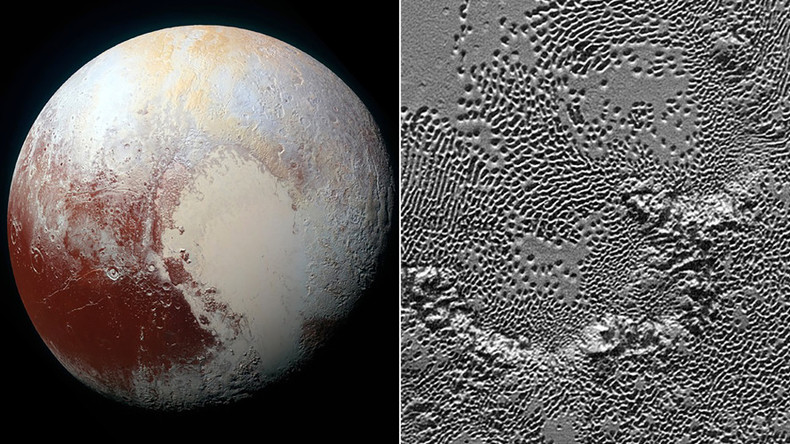 NASA has released the most detailed view of Pluto's surface to date, captured by the New Horizons spacecraft. The fresh images showcase a variety of distinct landscapes.
New Horizons Long Range Reconnaissance Imager (LORRI) managed to obtain the pictures some 15,850 kilometers from Pluto's surface in July 2015.
"With a resolution of about 80 meters per pixel, the mosaic affords New Horizons scientists and the public the best opportunity to examine the fine details of the various types of terrain on Pluto, and determine the processes that formed and shaped them," NASA said.
This strip shows us the surface from the "limb" of Pluto at the top to the "terminator" (or day/night line) seen below. It starts 90km wide at the top and tapers to 70km at the bottom.
"This new image product is just magnetic," said Alan Stern, New Horizons principal investigator from Southwest Research Institute, Boulder, Colorado. "It makes me want to go back on another mission to Pluto and get high-resolution images like these across the entire surface."
READ MORE: NASA reveals first official findings of Pluto mission
The pictures were released in the form of a video.
"Starting with hummocky, cratered uplands at top, the view crosses over parallel ridges of 'washboard' terrain, chaotic and angular mountain ranges, cellular plains, coarsely 'pitted' areas of sublimating nitrogen ice, zones of thin nitrogen ice draped over the topography below, and dark mountainous highlands scarred by deep pits," NASA says.
The New Horizons spacecraft was launched in January 2006. More than nine years passed before it went as close as 7,750 miles to Pluto and as far as 3.1 billion miles from Earth. What New Horizons has managed to send back, in the four hours and 25 minutes it took for data to reach Earth, reveals a very different Pluto from that expected.
READ MORE: Giant 'icy spider' captured on Pluto's surface in latest NASA image (PHOTO)
After its discovery in 1930, Pluto was considered the ninth planet in the Solar system, but its status was changed in 2005 after the discovery of a larger object nearby. It is now officially a dwarf planet.
And now, if you're not afraid of losing yourself in Pluto's plains and mountains, scroll away!