Circus worker in Sweden throws poo at animal rights protesters (VIDEO)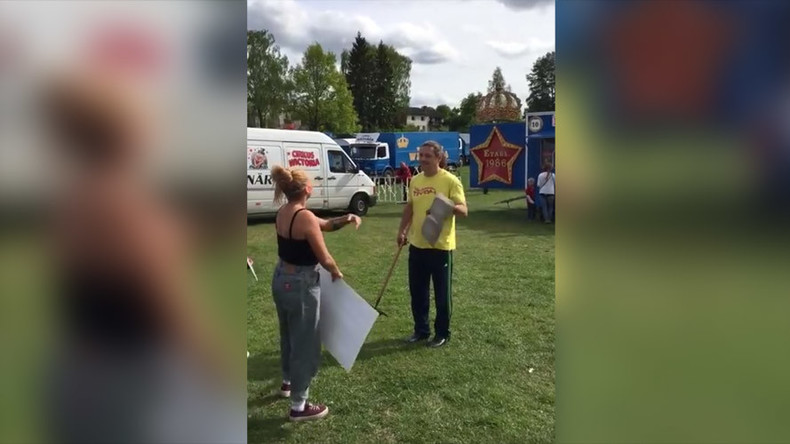 A video has emerged of an angry circus worker throwing animal droppings at activists in Sweden, who were protesting against the "immoral use of animals" by the entertainment company.
A worker from 'Cirkus Wictoria' shouted abuse at seven activists from the Animal Rights Alliance who were standing outside the venue on May 21, understood to have been in the Tumba area, less than 30km south of Stockholm.
One activist present at the demonstration also confirmed that animal feces were thrown at the group while they blocked the entrance to the circus.
A worker in a yellow top is filmed by one activist shouting: "Come on, this is animal sh*t, you'll like it," as he scoops up a bundle of poo and hurls it across the field towards the protesters.
The circus worker then collects the droppings into a wheelbarrow before walking over to the crowd of activists with a shovel of the remains.
One protester angrily pushes the shovel out of her face as the worker continues to taunt the group.
Joakim Bergros, who uploaded the video to YouTube, told Vice the protesters were peacefully standing by a fence when things kicked off.
"We were just standing there when he came up to say stuff like 'So you like animals?' That's when he started throwing the sh*t," Bergros said.
The animal rights activist said he would still continue protesting against the use of animals in circuses despite the latest incident.
"We will stand there until they stop using animals," he added. "What they're doing to the animal is morally indefensible - animals are not ours to keep for entertainment."
Lars-Åke Jonsson, who owns the circus, said he couldn't comment on the incident, but maintained that animals used are well cared for and that they "would never hurt them."
READ MORE: Circus workers attack animal rights activists & police (VIDEO)
While Austria, Slovenia and Greece have all banned the practice, using animals in circus performances remains legal in Sweden.